Apple Monitor Wall Mount with Swivel Arm Spring Arm
A single Apple monitor floating articulating arm mount for easily adjustable height, instant screen repositioning, and unparalleled ergonomics.
Description
Sleek and adjustable, the MW-AS1SWPZ Wall Mount Apple Monitor Arm offers both aesthetic and ergonomic comfort! It features an attractive height adjustable articulating arm that provides perfect ergonomics with optimum monitor positioning for virtually all users. Chic black or aluminum coloring complements the eye and back comfort granted by an extremely flexible design.
With a sturdy aluminum alloy construction, the MW-AS1SWPY Wall Mount Apple Monitor Arm is available in both silver and black and can support monitors ranging from 19" to 32" and with weights of between 13.6lbs (8 kg) to 29.7lbs (13.5 kg). Suitable for most home and office walls.
Features
Ergonomic design allows full-range positioning of display for maximum viewing comfort and workspace utilization.
With its mobility, flexibility, and chic appearance, this LCD wall mount will surely meet your monitor mount needs.
Height Adjustment Range being the maximum in the market: 17.7" (450mm) dynamically, or 70° upward and 50° downward.
Extends up to 23.8" (60.5 cm) from the wall and retracts to within 5.8" (14.8 cm), excluding the depth of the monitor
Swivel arm features quick release design: only a matter of a 'click' to get connected and with a push of a button then lift off to get disconnected.
Sleek, solidly-constructed forged aluminum arms in subtle silver and black finishes
Cable management clips on the underside of the arm route and hide wires
It can be optimized for touchscreen use
Easy installation and dis-installation
Made predominantly of steel and aluminum, which are highly recyclable
It can be configured to hold a laptop instead of an LCD simply by getting the VESA Compatible Laptop Tray (NBT-B1)
Space-saving; if you plan to mount your flat screen at a corner, this is a perfect solution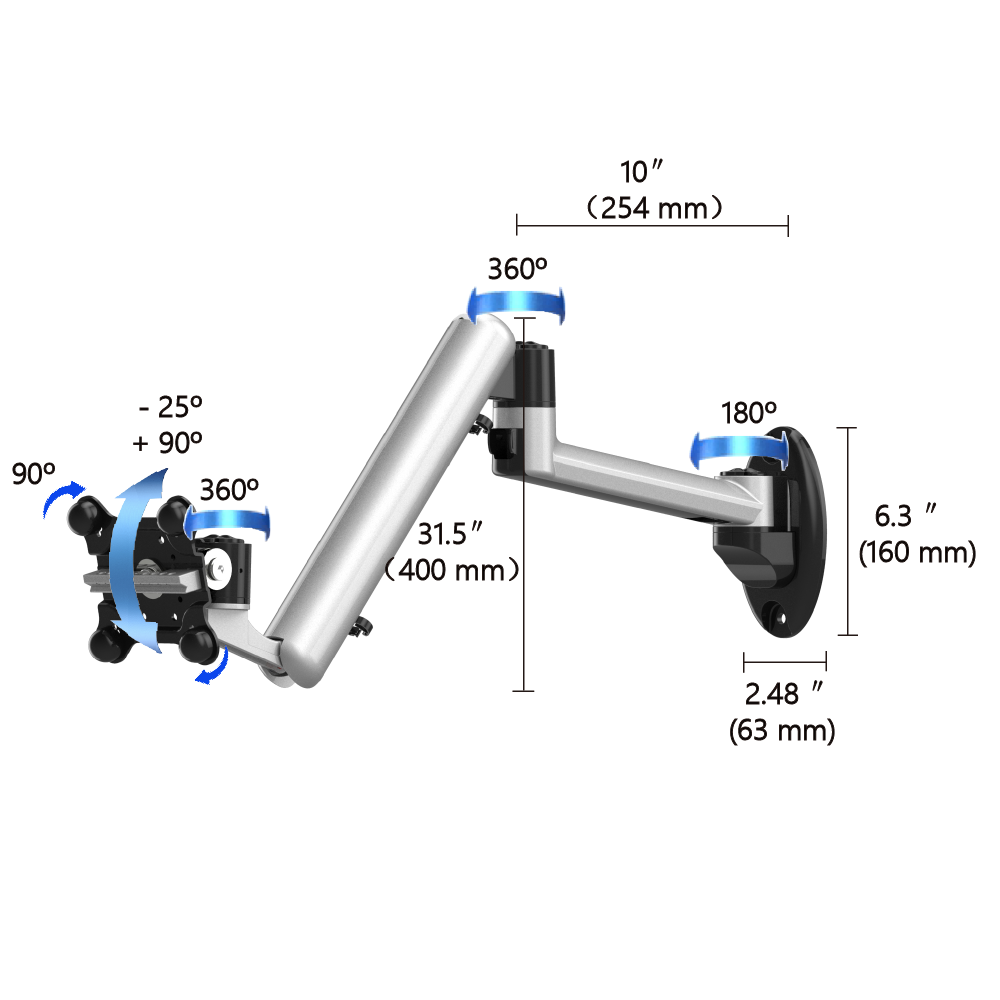 Designed for the following Apple Monitors:

24-inch iMac (aluminum and glass)

27-inch iMac before 2013

24-inch LED Cinema Display

27-inch LED Cinema Display

27-inch Thunderbolt Display

21.5" or 27" iMac with Built-in VESA Mount Adapter after late 2012

27" iMac Retina with Built-in VESA Mount Adapter
27" iMac Pro with VESA Mount Adapter
32" Apple Pro Display XDR (2019) with VESA Mount Adapter. Please be sure to  purchase the VESA Adapter for this model from Apple

If your Apple monitor is not listed above, please contact us for solutions.
Weight Capacity

Supports up to 18.3-29.7 Lbs (8.3-13.5 Kg)

VESA Mounting Hole Pattern 75 x 75 and 100 x 100; can support 200 x 200 or 200 x 100 via additional adaptor plate (VSA-B2) option
Rotation

90° Landscape / Portrait

Tilt

115°, Backward -90°, +25° Forward

Swivel

Max 180°

Dynamic Height Adjustment

17.7" (450 mm)

Minimum Profile From Wall

4.3" (109 mm)

Maximum Extension

Up to 30" (762 mm)

Mounts on Studs

Single-stud

Wall Plate Dimensions

Wide: 6.25" X High: 4.25" X Deep: 19.5" (159 X 108 X 495 mm)

Color

Metallic Silver & Glossy Black