Slide 'n View Adjustable Single Apple Monitor Desk Mount
A wide assortment of display options and the ability to instantly position your Apple monitor at varying heights make this a must-have mounting solution.
Description
Instead of craning your neck, constantly adjusting your seat, or tirelessly changing body positions every time you need to get a better look at your computer screen, mount your monitor with the Slide 'n View Adjustable Single Apple Monitor Mount and always enjoy a flawless view.
The mounting tool of choice for screens up to 32" with a max weight of 44 lbs., this unit employs an internal spring inside the 19.7" mounting pole, which allows instant height adjustment up to 9.4". Should you need to raise or lower your screen, slide the mounting bracket anywhere along the three pre-set mounting positions, and you're ready to work! An extra-wide base of support, measuring 16.02" front width X 11.18" depth X 9.41" back width, ensures extra stability and prevents accidental tipping.
You'll enjoy an invaluable and extensive set of display options, including 90° rotation from portrait to landscape mode, 115° of tilt (-90° backward, +25° forwards), and 20° of a swivel. The Slide 'n View Adjustable Single Apple Monitor Desk Mount is built from high-quality materials and supports installation in VESA mounting hole patterns of 75 x 75 and 100 x 100 (can support 200 x 100 or 200 x 200 via an additional adaptor plate, sold separately.)
By putting a Slide 'n View Adjustable Single Apple Monitor Desk Mount on your desktop, you'll be putting an end to end-of-the-day aches and pains!
please note that each mounting position has a different max weight limit, as follows: 2.2-11 lbs./ 11-22 lbs. / 22-33 lbs.
Features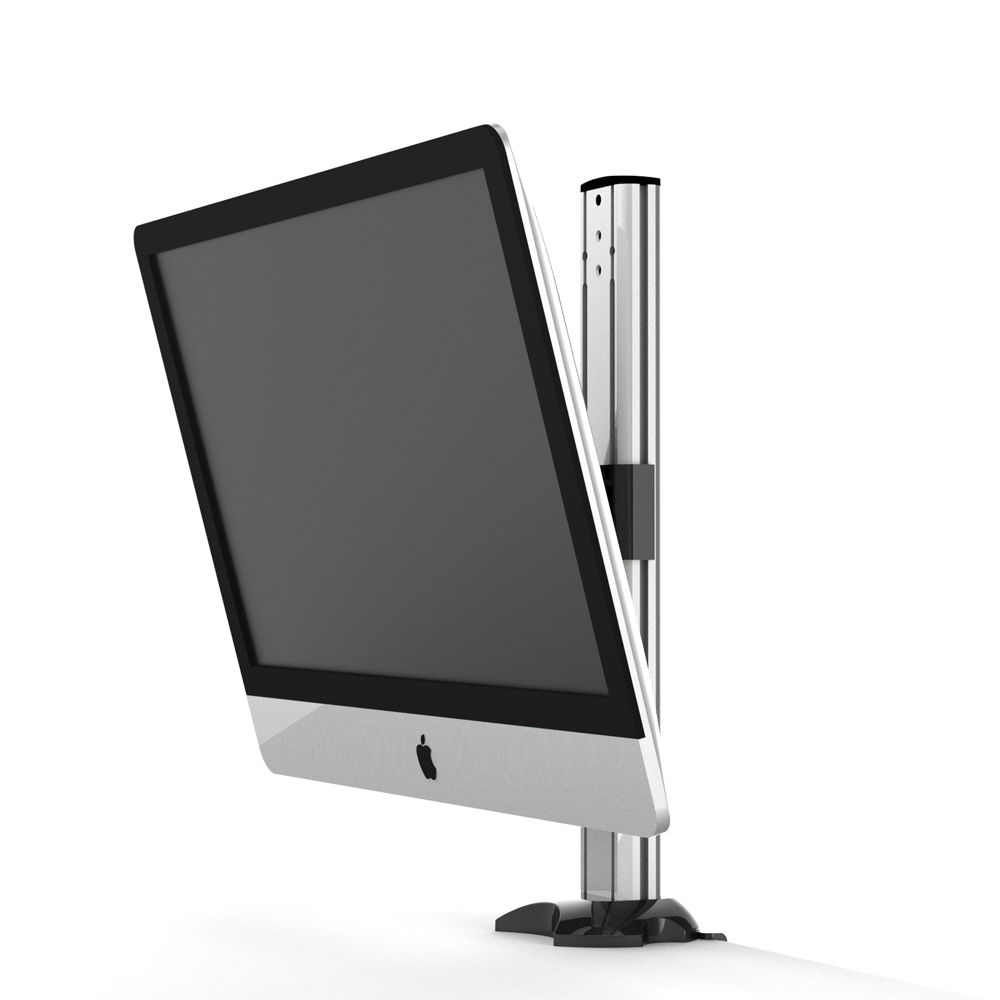 Supports compatible Apple displays up to 27" within 33 Lbs (15 Kg)
Provides full-range of tilting, swiveling, rotation, and dynamic height adjustments to maximize display viewing comfort by reducing neck and eye strain
Constructed from lightweight-yet-durable polished aluminum and black trim for maximum strength, environmentally friendliness, bold aesthetics, and extended life
Mount includes desk clamp and grommet (goes through a hole) base
Clamp table thickness : 0.5"- 2.5" ( 12.7 - 63.5 mm)
Grommet table thickness : 0.5"-2.5" (12.7 - 63.5 mm); Hole Diameter: 0.4"- 2.36" (10 - 60 mm)
Quick-release/attachment mounting head to assist with multiple installations
Vertical bar length: 19.7"
Easily and smoothly sliding monitor up and down in the range of 9.4."
Excellent space-saving and ergonomic solution
Neat and efficient cable management
Designed with state of the art engineering technologies; Safe, easy to use; Simple installation and effortless operation.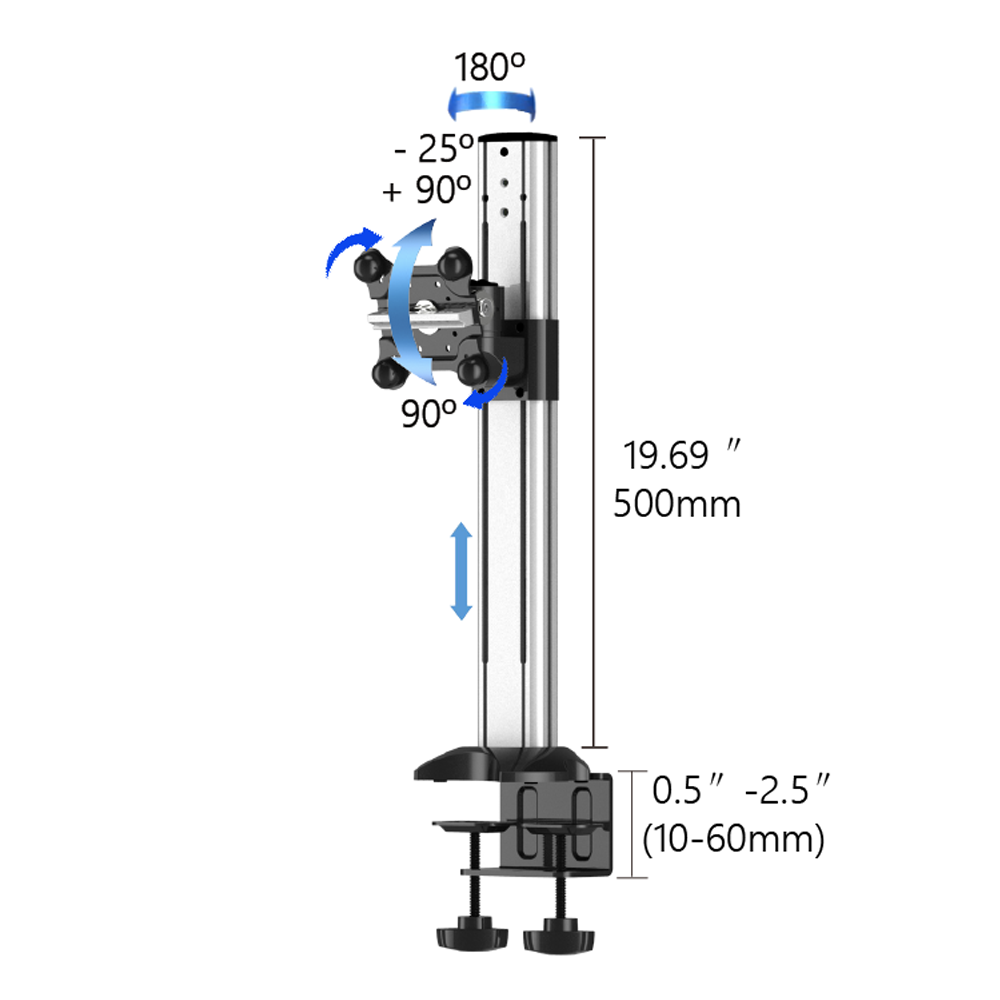 Designed for the following Apple Monitors:

24-inch iMac (aluminum and glass)

27-inch iMac before 2013

24-inch LED Cinema Display

27-inch LED Cinema Display

27-inch Thunderbolt Display

21.5" or 27" iMac with Built-in VESA Mount Adapter after late 2012

27" iMac Retina with Built-in VESA Mount Adapter
27" iMac Pro with VESA Mount Adapter
32" Apple Pro Display XDR (2019) with VESA Mount Adapter. Please be sure to  purchase the VESA Adapter for this model from Apple

If your Apple monitor is not listed above, please contact us for solutions.
Weight Capacity

Three choices: 1) 2.2-11 Lbs (1.0-5.0 Kg); 2) 11.0-22 Lbs (5.0-10.0 Kg); 3) 22.0-33.0 Lbs (10.0-15.0 Kg)

VESA Mounting Hole Pattern 75 x 75 and 100 x 100; can support 200 x 200 or 200 x 100 via additional adaptor plate (VSA-B2) option
Rotation

90° Landscape / Portrait

Tilt

115°, Backward -90°, +25° Forward

Swivel

360°

Pole Length

19.7" (500 mm)

Height Adjustment Range

9.4" (238 mm) dynamically

Clamp Table Thickness

0.5" - 2.5" (12.7 - 63.5 mm)

Grommet Table Thickness

0.5" - 2.5" (12.7 - 63.5 mm), Hole Diameter: 0.4"- 2.36" (10 - 60 mm)

Color

Metallic Silver & Glossy Black