Adjustable Single Apple monitor Desk Stand
In keeping with the saying that simplicity is the best, this desk-mounted Apple monitor display is where form and functionality get integrated with functionality. Beautifully crafted and deceivingly simplistic.
Description
The Single Monitor Desk Mount for Apple w/ 2-in-1 Base is a stylish stand that is perfect for your Apple LCD monitor. This Apple stand is ideal for offices, classrooms, private homes, and public areas with a 360° swivel function and a weight capacity of 44lbs (20kg) for each screen.
It's the perfect accessory for the busy individual and can fit neatly into any home office space. This Apple monitor stand has +90° / -25° tilt actions to ensure perfect viewing at any angle. The convenient display stand features robust cable management, ensuring a neat and tidy desk space with no visible cables.
This convenient and stylish LCD desktop stand offers perfect flexibility and is maneuverable to suit any viewing angle. It has a modern look, which fits in perfectly with Apple's stylish looks.
The Apple display stand has been designed with the latest engineering technologies to ensure durability and strength. These quality stands are manufactured in our offshore manufacturing plant, adhering to strict quality guidelines that enable us to deliver value to our customers. This handy desk stand has been manufactured with the end-user in mind; and ensures easy installation features while simultaneously offering intuitive, practical, and functional designs.
Features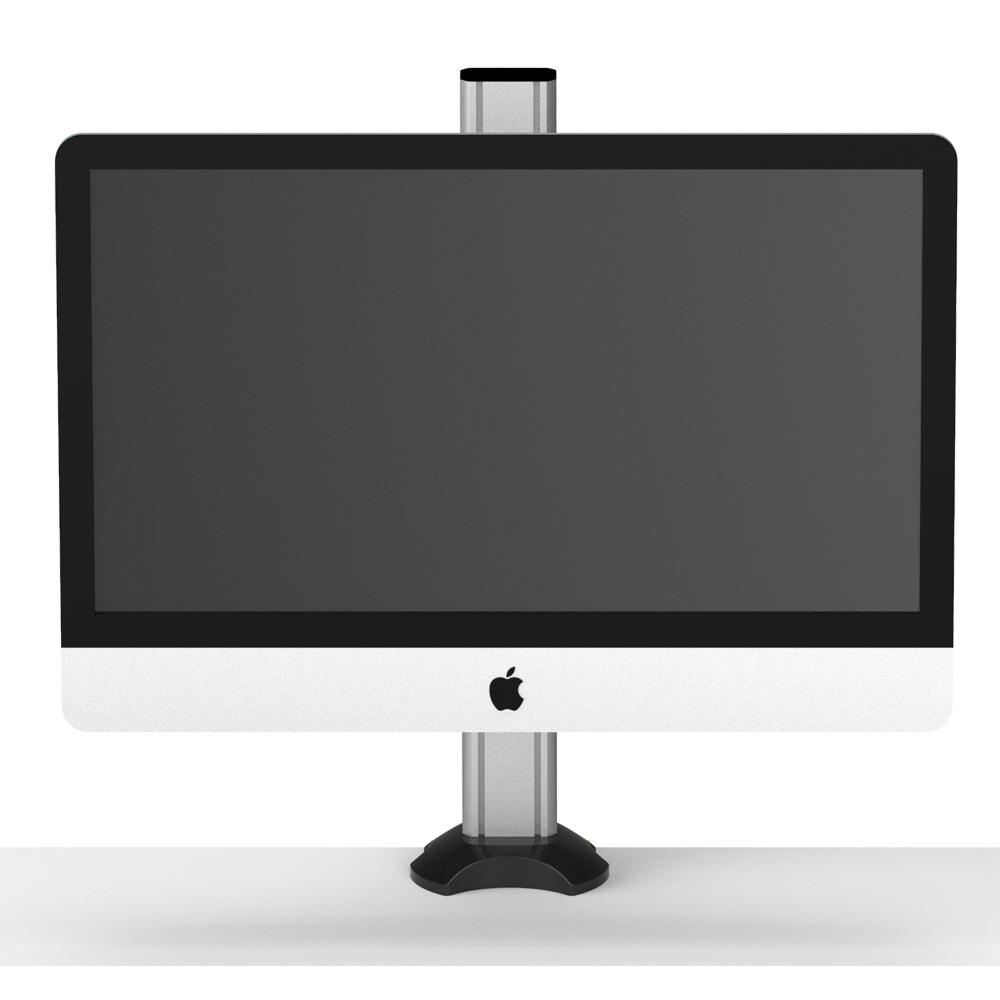 Pole Length: 19.7" (500 mm) ; optional 27.5" (700 mm) & 43.3" (1,100 mm) pole available
Upgradable to multi-screen
Compact and unique design frees up desktop space
Tilt, pan, or turn your display for portrait or landscape viewing
Quick-release monitor head
Easy manual height adjustment
Lightweight, fully adjustable, and easy to install
Easy assembly for convenient usability
Neat and efficient cable management
Height Adjustment Range: 16.5" (420 mm) manually at the pole or 9.4" (238 mm) dynamically with Front-end Adjuster (FVL-S1)
option
Heavy-duty clamp and grommet mount base ensures greater stability of display and arm
It comes with both desk clamp and desk grommet base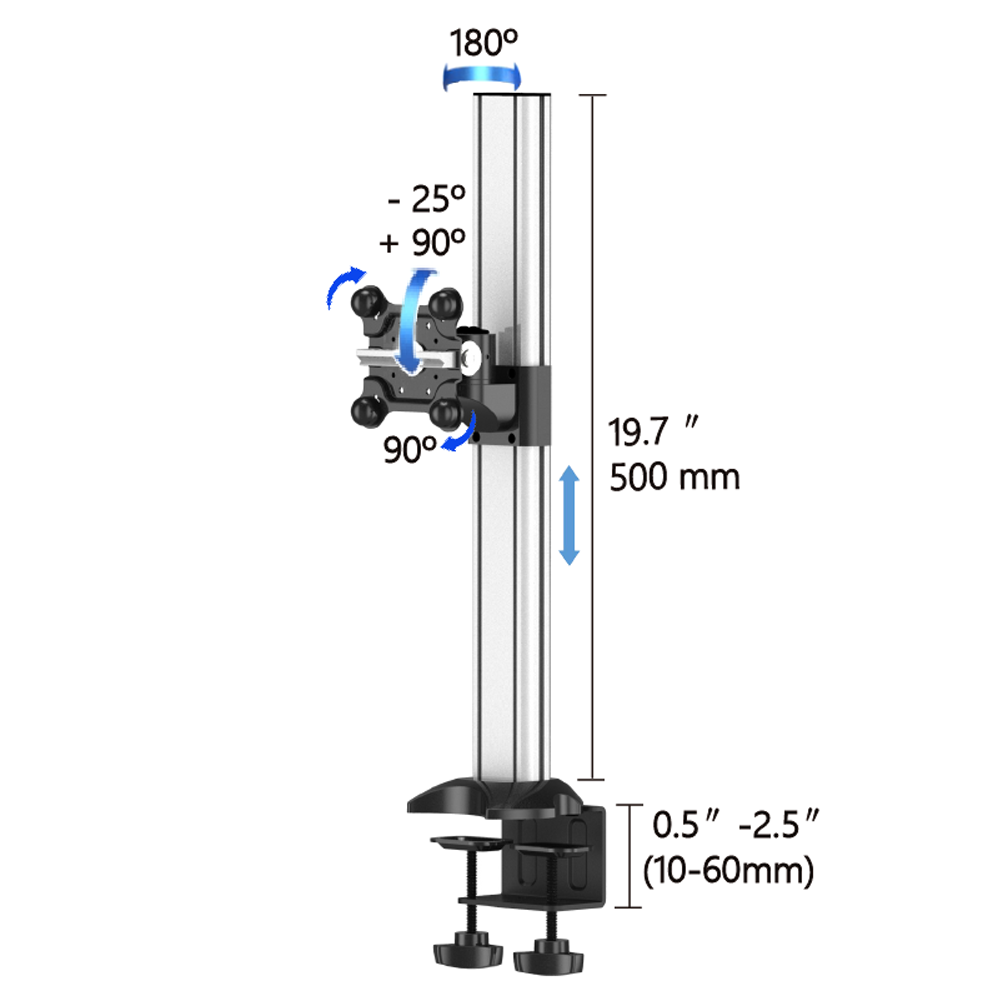 Designed for the following Apple Monitors:

24-inch iMac (aluminum and glass)

27-inch iMac before 2013

24-inch LED Cinema Display

27-inch LED Cinema Display

27-inch Thunderbolt Display

21.5" or 27" iMac with Built-in VESA Mount Adapter after late 2012

27" iMac Retina with Built-in VESA Mount Adapter
27" iMac Pro with VESA Mount Adapter
32" Apple Pro Display XDR (2019) with VESA Mount Adapter. Please be sure to  purchase the VESA Adapter for this model from Apple

If your Apple monitor is not listed above, please contact us for solutions.
Weight Capacity

Supports up to 44 Lbs (20 Kg)

VESA Mounting Hole Pattern 75 x 75 and 100 x 100; can support 200 x 200 or 200 x 100 via additional adaptor plate (VSA-B2) option
Rotation

90° Landscape / Portrait

Tilt

115°, Backward -90°, +25° Forward

Swivel

360°

Pole Length

5.9" (150 mm). Longer pole options available for 11.8" (300 MM), 19.7" (500 mm), 27.6" (700 mm) and 43.3" (1100 mm)

Height Adjustment Range 7.9" (200 mm) manually at the pole or 9.4" (238 mm) dynamically with Front-end Adjuster FVL-S1 option
Extends / Retracts Monitor

71.9" (1825 mm)

Clamp Table Thickness

0.5" - 2.5" (12.7 - 63.5 mm)

Grommet Table Thickness

0.5" - 2.5" (12.7 - 63.5 mm), Hole Diameter: 0.4"- 2.36" (10 - 60 mm)

Color

Metallic Silver & Glossy Black