Dual Apple Monitor Mount Floating Arm with 7 in 1 Base
Reclaim your workspace with a stylish and solidly built dual floating arm Apple monitor solution. Professionals unlock desk space potential and increase productivity with a multi-screen solution that is quick and easy to set up.
Description
Dual Apple Monitor Mount Floating Arm with 7-in-1 Base offers both aesthetic and ergonomic comfort! It features an attractive height adjustable articulating arm that provides perfect ergonomics with optimum monitor positioning for virtually all users.
It's perfect for collaboration in a shared workspace, reception desks, flex workstations, or other areas where many different people work with a monitor. Chic black or aluminum coloring complements the eye and back comfort granted by an extremely flexible design.
The Continews monitor arm has been built with the end-user in mind. It features easy installation while offering intuitive, practical & functional design from one of the leading manufacturers of monitor mounts.
Features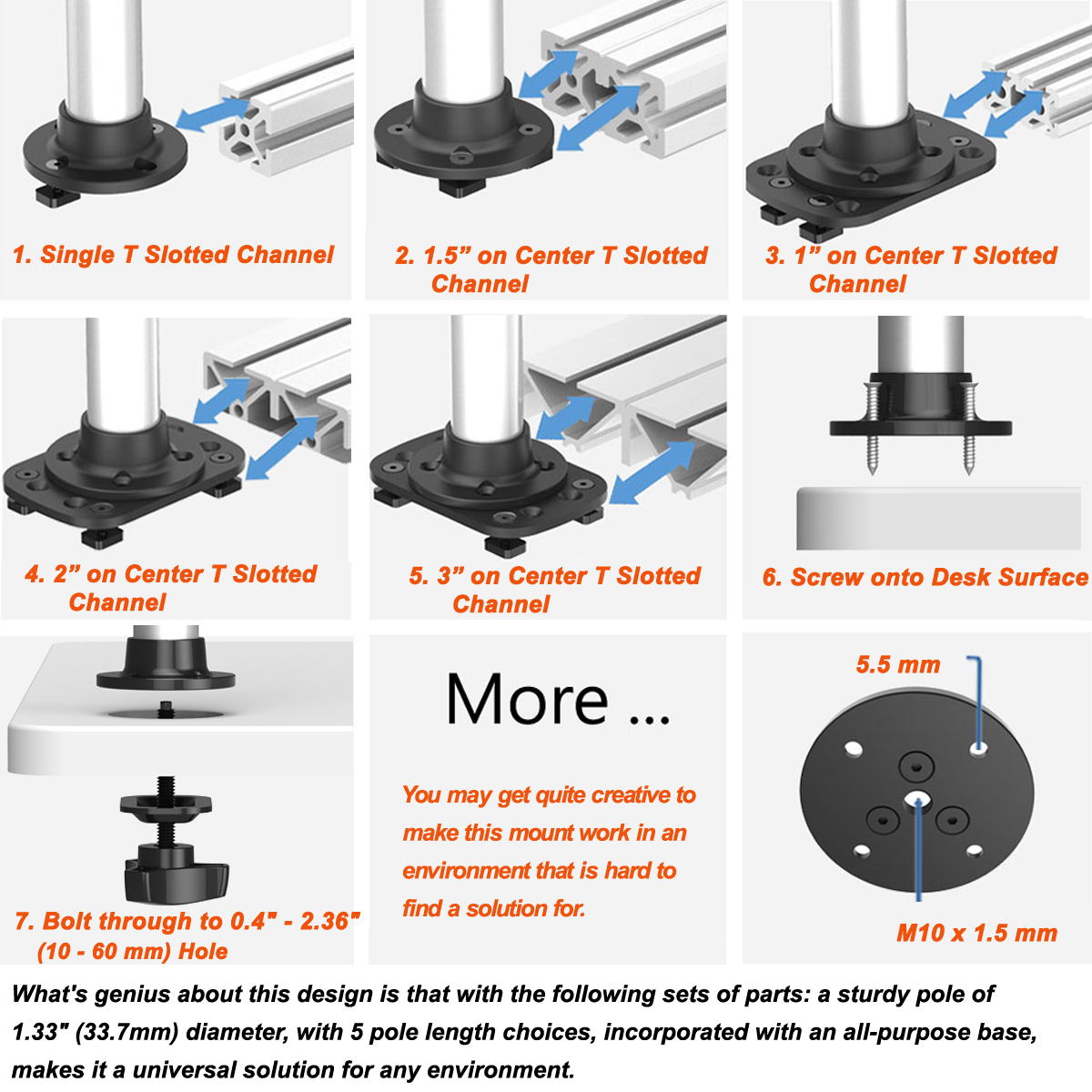 Provides a full range of extending, retracting, height adjustments, rotation, and tilt motions to maximize display viewing comfort by reducing neck and eye strain.
Dual-monitor configuration increases productivity.
Designed to accommodate compatible Apple displays and sit/stand working environments
Spring Arm Dynamic Height Adjustment range: 17.7" (450 mm)
The arms can be connected to any point on the pole, which allows manual height adjustment range of the pole length
Five pole length choices: 5.9" (150 mm): 11.8" (300 mm); 19.7" (500 mm); 27.5" (700 mm) and 43.3" (1,100 mm)
Spring arm design makes extension, retraction, and height adjustments dynamically and easily
Cable management features routes cables under the arm, out of the way.
Easy installation and dis-installation.
Solid Aluminum die-cast construction.
Designed for the following Apple Monitors:

24-inch iMac (aluminum and glass)

27-inch iMac before 2013

24-inch LED Cinema Display

27-inch LED Cinema Display

27-inch Thunderbolt Display

21.5" or 27" iMac with Built-in VESA Mount Adapter after late 2012

27" iMac Retina with Built-in VESA Mount Adapter
27" iMac Pro with VESA Mount Adapter
32" Apple Pro Display XDR (2019) with VESA Mount Adapter. Please be sure to  purchase the VESA Adapter for this model from Apple

If your Apple monitor is not listed above, please contact us for solutions.
Weight Capacity

Supports up to 18.3-29.7 Lbs (8.3-13.5 Kg) for each monitor

VESA Mounting Hole Pattern 75 x 75 and 100 x 100; can support 200 x 200 or 200 x 100 via additional adaptor plate (VSA-B2) option
Rotation

90° Landscape / Portrait

Tilt

115°, Backward -90°, +25° Forward

Swivel

Max 360°

Pole Length

11.8" (300 mm). Longer pole options available for 19.7" (500 mm), 27.6" (700 mm) and 43.3" (1100 mm)

Dynamic Height Adjustment

17.7" (450 mm) for each monitor

Extends / Retracts Monitor

Up to 28" (712 mm)

Grommet Table Thickness

0.5" - 2.5" (12.7 - 63.5 mm), Hole Diameter: 0.4"- 2.36" (10 - 60 mm)

Color

Metallic Silver & Glossy Black