Six Degrees of Flexibility Dual Apple Monitor Slideable Wall Mount
Slide, swivel, and spring two wall-mounted Apple displays perfectly into view with independent spring-reinforced arms and six degrees of flexibility!
Description
Build your custom workstation with a responsive, dual Apple monitor mounting slideable wall mount system that offers flexibility from every angle. The wall mounting bar can be installed horizontally or vertically, depending on the limitations and features of your workspace. This also makes it easy to arrange the screens side-by-side, diagonal, or on top of each other. It is optimal for corner mounting as well.
Whether you choose a vertical or horizontal wall placement, the slideable wall mount continues to provide endless personalization for your space. Mount any size monitor, up to 18.3-29.7 Lbs (8.3-13.5 Kg), and easily maneuver the slider to arrange the screens side-by-side or separately. Dynamic height adjustment provides 17.7-inches/450mm of flexibility. You can also tilt and swivel the Apple monitors for a perfect view with minimal glare.
Polished aluminum alloy has a shiny, brushed look against bright black accent connectors and fittings. Cords are artfully controlled for a sleek, clean look that matches the modern design of this exceptional dual monitor wall mount. Easily modify the slidable wall mount with six adjustable mounting settings to best fit technology into your space. Best of all, you can rely on the lasting strength and durability of the industrial-grade mounting bracket and state-of-the-art arm design to keep your Apple monitors safely.
Features
Provides full-range of extending, retracting and tilt motions to maximize display viewing comfort by reducing neck and eye strain
Flexible mount gives freedom of positioning for dual VESA mounted displays.
Accommodates different monitor weights ranging from 7.0-19.8lbs (3.2-9.0Kgs)
Height Adjustment Range being the maximum in the market: 17.7" (450mm) dynamically, or, 70° upward and 50° downward
Constructed from polished aluminum and black trim for maximum strength and bold aesthetics
Safe, easy to use—simple installation and effortless operation
Cable management clips on the under side of the arm route and hide cords
Made predominantly of steel and aluminum, which are highly recyclable
The monitor mount has been designed with the latest engineering technologies in mind
Can be configured to hold a laptop instead of a LCD display simply by getting the VESA Compatible Laptop Tray (NBT-B1)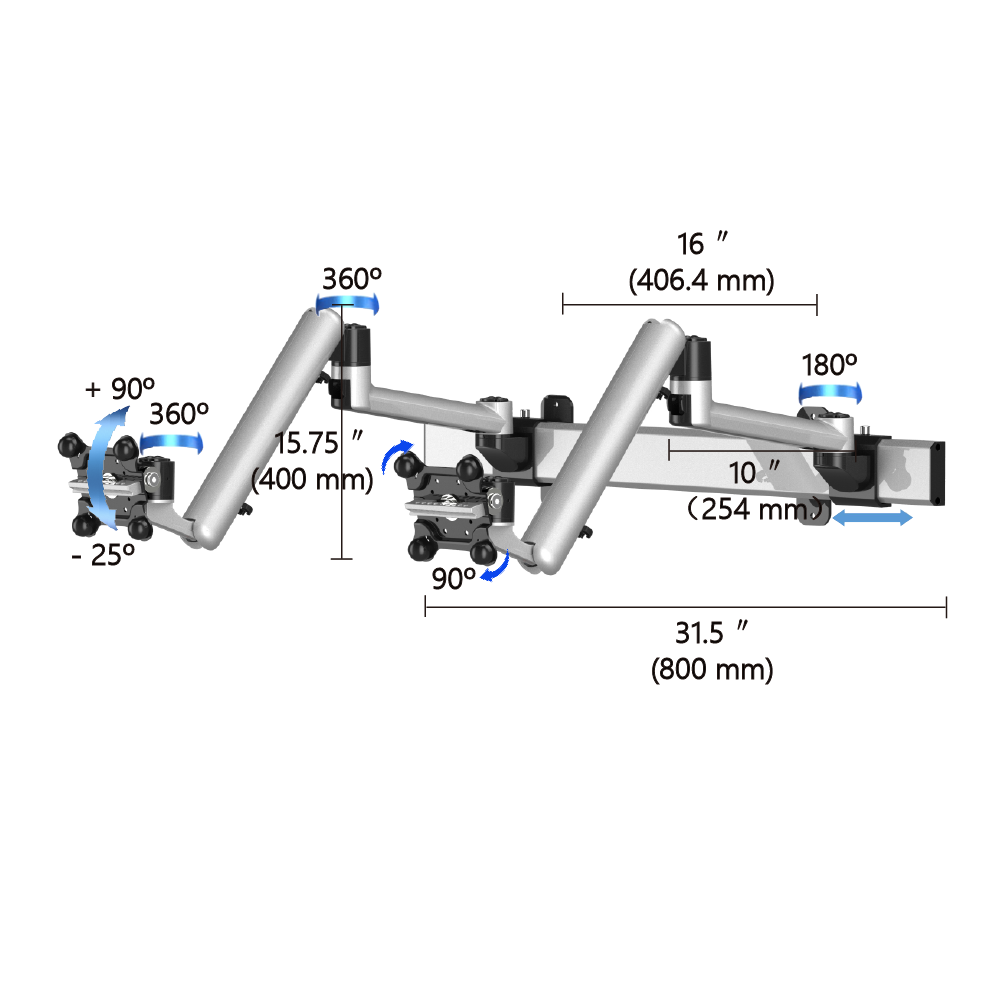 Designed for the following Apple Monitors:

24-inch iMac (aluminum and glass)

27-inch iMac before 2013

24-inch LED Cinema Display

27-inch LED Cinema Display

27-inch Thunderbolt Display

21.5" or 27" iMac with Built-in VESA Mount Adapter after late 2012

27" iMac Retina with Built-in VESA Mount Adapter
27" iMac Pro with VESA Mount Adapter
32" Apple Pro Display XDR (2019) with VESA Mount Adapter. Please be sure to  purchase the VESA Adapter for this model from Apple

If your Apple monitor is not listed above, please contact us for solutions.
Weight Capacity

Supports up to 18.3-29.7 Lbs (8.3-13.5 Kg) for each monitor

VESA Mounting Hole Pattern 75 x 75 and 100 x 100; can support 200 x 200 or 200 x 100 via additional adaptor plate (VSA-B2) option
Rotation

90° Landscape / Portrait

Tilt

115°, Backward -90°, +25° Forward

Swivel

Max 180°

Dynamic Height Adjustment

17.7" (450 mm) for each monitor

Minimum Profile From Wall

4.4" (112 mm)

Maximum Extension

Up to 28" (712 mm)

Mounts on Studs

Double-stud (mount spacing of 16" (406 mm)

Wall Mount Bar Length

2.9" X 31.5" (74 X 800 mm)

Color

Metallic Silver & Glossy Black