Vertical Dual Apple Monitor with 7-in-1 Base and Swivel Arm
Reclaim your workspace with a stylish and solidly built dual extension arm Apple monitor solution. Professionals unlock desk space potential and increase productivity with a multi-screen solution that is quick and easy to set up.
Description
The Vertical Dual Apple Monitor with 7-in-1 Base and Swivel Arm is a stylish console mount that is perfect for your compatible Apple displays. With a 360° swivel function and a weight capacity of 44lbs (20kg) for each screen, this T-slot mount is ideal for control rooms, workstations, industrial environments, and many other applications.
It keeps your operators productive, healthy, and as a result, happier. This mount has +90° / -25° tilt actions to ensure perfect viewing at any angle. The convenient display mount features robust cable management, ensuring a neat and tidy desk space with no visible cables.
This convenient and stylish LCD extrusion track mount offers perfect flexibility and is maneuverable to suit any viewing angle. It has a modern design, which fits in perfectly with the Apple monitor's stylish looks. The 7-in-1 mount has been designed with the latest engineering technologies to ensure durability and strength.
Adhering to strict quality guidelines that enable us to deliver value to our customers. This handy console T-slot mount has been manufactured with the end-user in mind; and ensures easy installation features while simultaneously offering intuitive, practical, and functional designs.
Features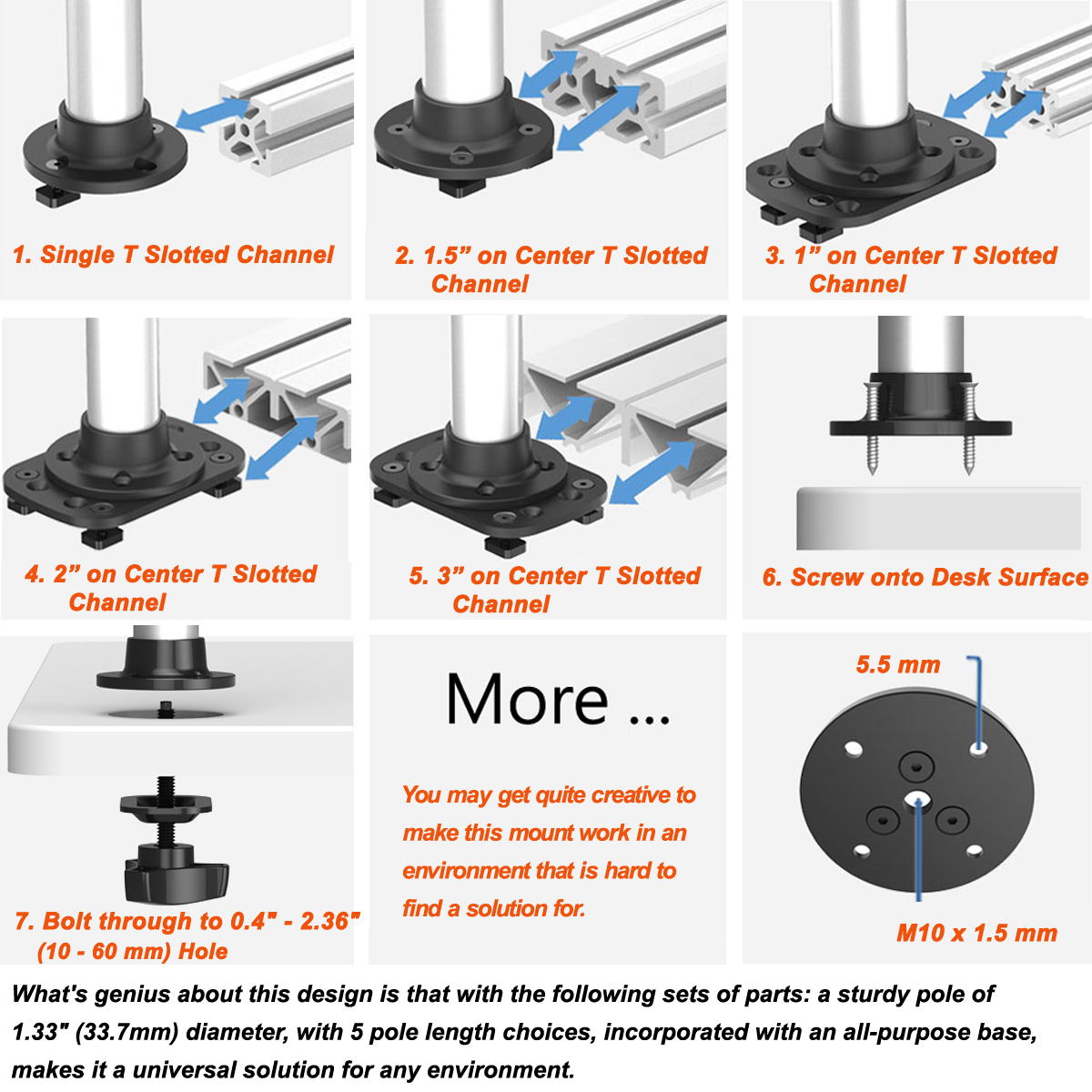 The ultimate in effortless fingertip monitor positioning.
Dual-monitor configuration increases productivity.
Swift and easy movements and adjustments.
Swivel arm features quick release design: only a matter of a 'click' to get connected and with the push of a button, lift off to get disconnected.
The simple and cost-effective monitor brackets.
Rock-solid construction secures your display investment.
Clean look with minimal hardware visible from the underside of the work surface.
Stylish design and super sturdy construction; steel and polished aluminum exterior.
Designed for easy disassembly with clear recycling instructions.
Cable management features routes cables under the arm, out of the way.
Easy installation and dis-installation.
Designed for the following Apple Monitors:

24-inch iMac (aluminum and glass)

27-inch iMac before 2013

24-inch LED Cinema Display

27-inch LED Cinema Display

27-inch Thunderbolt Display

21.5" or 27" iMac with Built-in VESA Mount Adapter after late 2012

27" iMac Retina with Built-in VESA Mount Adapter
27" iMac Pro with VESA Mount Adapter
32" Apple Pro Display XDR (2019) with VESA Mount Adapter. Please be sure to  purchase the VESA Adapter for this model from Apple

If your Apple monitor is not listed above, please contact us for solutions.
Weight Capacity

Supports up to 66 Lbs (30 Kg) in total

VESA Mounting Hole Pattern 75 x 75 and 100 x 100; can support 200 x 200 or 200 x 100 via additional adaptor plate (VSA-B2) option
Rotation

90° Landscape / Portrait

Tilt

115°, Backward -90°, +25° Forward

Swivel

Max 360°

Pole Length

27.6" (700 mm). Longer pole options available for 43.3" (1100 mm)

Height Adjustment Range 7.9" (200 mm) manually at the pole or 9.4" (238 mm) dynamically with Front-end Adjuster FVL-S1 option
Extends / Retracts Monitor

Up to 12" (300 mm)

Grommet Table Thickness

0.5" - 2.5" (12.7 - 63.5 mm), Hole Diameter: 0.4"- 2.36" (10 - 60 mm)

Color

Metallic Silver & Glossy Black