VastVu Flat Panel Six Monitor Horizontal Wall Mount
Give your employees the space they need while still enjoying the cost-saving benefits of incorporating multi-unit mounts into your business!
Description
Let your employees enjoy ample elbow room while still displaying multiple computer screens on a single mount with the VastVu Flat Panel Six Monitor Horizontal Wall Mount! It's a durable tool with multi-faceted functionality that provides users with great display options, as well as plenty of elbow room!
This mount can hold six 28" screens, with a maximum weight capacity of 110lbs., and displays them in an ultra-wide horizontal manner. Each mounting bracket functions independently of the others and delivers a host of premium viewing options, including 90° rotation from portrait to landscape mode, 115° of tilt (-90° backward, +25° forwards), and 180° of swiveling. 9.4" of dynamic height adjustability is also available, and the unit is capable of working with both PC and Apple screens (additional adapter required, sold separately.)
Single-stud installation is simple for users of all skill levels and supports popular VESA mounting hole patterns of 75 x 75 and 100 x 100 (can support 200 x 100 or 200 x 200 via an additional adaptor plate, sold separately). A solidly sound construction utilizing premium-grade materials reduces the likelihood of annoying shakiness in a product built to stand the test of time. Your employees will appreciate the extra room, and your business will appreciate the uptick in productivity!
Features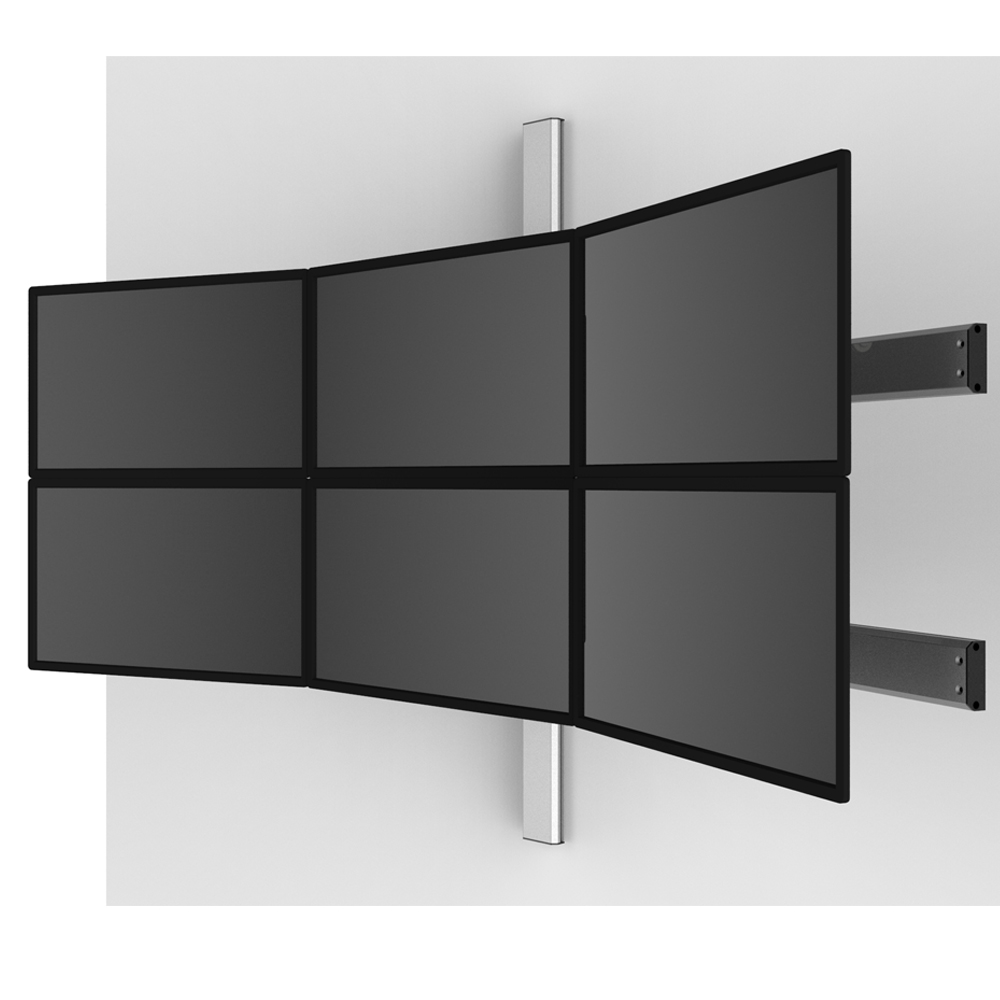 Wall mount type supports six flat screens up to 28"
Six-monitor configuration increases productivity
Two lateral beams are connected to a 21.25" (540 mm) central beam with articulating hinges that can be angled to create an arc shape
Easy-adjust by hands: 90 degrees backward / 25 degree forward tilting, 90-degree rotation, and 90-degree swivel
Independent adjustment of each screen for proper ergonomic alignment
Constructed from lightweight-yet-durable polished aluminum and black trim for maximum strength, environmentally friendliness, bold aesthetics, and extended life
Neat and efficient cable management
Configuration Flexibility: Install one or two arm extensions or only the LCD pivot as needed
Height Adjustment Range: 9.4" dynamically with Front-end Adjuster (FVL-S1) option
Can be configured to hold a laptop instead of an LCD display simply by getting the VESA Compatible Laptop Tray (NBT-B1)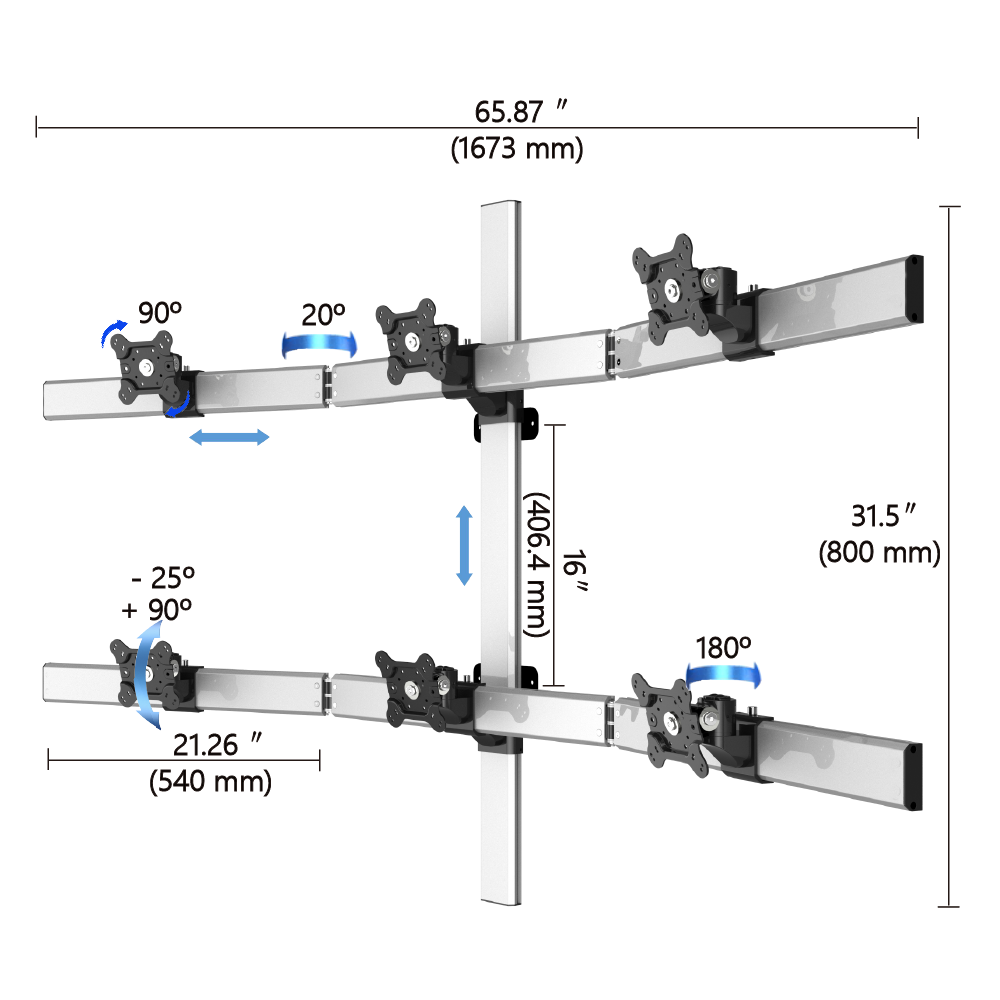 Fits Monitor Sizes

Supports up to 6 x 28" flat panel screen

Weight Capacity

Supports up to 132 Lbs (60 Kg) in total

VESA Mounting Hole Pattern 75 x 75 and 100 x 100; can support 200 x 200 or 200 x 100 via additional adaptor plate (VSA-B2) option
Rotation

90° Landscape / Portrait

Tilt

115°, Backward -90°, +25° Forward

Swivel

180°

Height Adjustment Range 9.4 inch (238 mm) dynamically with Front-end Adjuster (FVL-S1) option
Minimum Profile From Wall

8" (205 mm)

Maximum Extension

8" (205 mm)

Wall Mount Bar Length

2.9" X 31.5" (74 X 800 mm)

Mounts on Studs

Single-stud

Type of Display PC monitor & compatible Apple display with option part # ADA-S1
Color

Metallic Silver & Glossy Black