The 7-in-1 Solution For Troublesome Monitor Mounting
Installing monitors around your office should be quick and easy. Just choose a mounting accessory that's capable of supporting however many screens you've got, clamp it in place alongside the edge of a desk or bolt it into the wall, and everything is ready to transform your workstation into a hub of productivity, right?
Maybe in a perfect world, one with universally flat desks and walls free from any obstructions or bevels.
But what do you do if your work surface proves to be challenging?
A regular mount simply won't do, and before you throw good money at a product and try to make it work, consider this:
There is a solution built specifically for your situation, no matter how unique or odd it may be. In fact, it's capable of supporting up to 7 different types of installation scenarios, and all you need is a single device.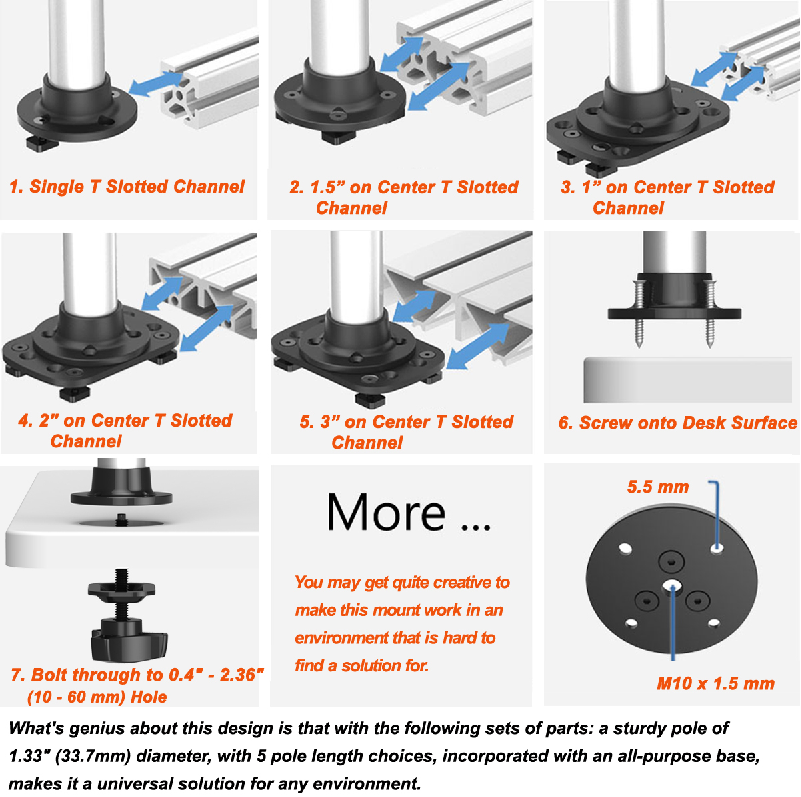 7+ Surfaces, 1 Simple Solution
Never before has there been a monitor mount capable of being installed on such a variety of surfaces as our selection of those with 7-in-1 bases. The highly adaptable mounting base supports:
1. Single T-Slotted Channel
2. 1" on Center T-Slotted Channel
3. 1.5" on Center T-Slotted Channel
4. 2" on Center T-Slotted Channel
5. 3" on Center T-Slotted Channel
6. Screw Onto Desk Surfaces
7. Bolt Through to 0.4"- 2.36" (10 – 60 mm) Hole
But what if your surface is truly one-of-a-kind, and doesn't fit into any of these configurations? Considering that these models were designed to be all-purpose, the 7-in-1 base is still the closest mount available to fit your (very) specific situation.
Combine ingenuity with a touch of creativity, add in our base which is outfitted with four 5.5 mm holes surrounding a center M10 x 1.5 mm opening, and the versatility and functionality of these mounts will far exceed not only your needs and expectations, but also any other mounting solution on the market.
Uses
From mounting a single monitor, tablet, or laptop, all the way up to products capable of supporting up to six (!) screens, almost all of Continews' mounts are available with a 7-in-1 base option.
Single screen mounts are great for instances when only an individual monitor is required. And while a mount with a single arm can be great for those who often have to spend extended amounts of time at their desk, a model with a dual-arm is ideal for those who may find themselves having to move about while still needing a great view.
Multiple-screen mounts not only provide great views in instances where a single user may require the use of more than one screen, but also provide a solution for multiple users who can all share the same workstation.
Don't let an out-of-the-ordinary surface derail your ability to securely and safely mount your screens. A 7-in-1 mount can quite often be the answer to challenging situations, both around the home and office!