Vertical Dual Apple Monitor with 7-in-1 Base
Vertical Dual Apple monitor mounting solution that provides a quick and simple installation. Height, tilt, and pivot are easily adjustable to maximize users' viewing experience and comfort. Perfect for use in the home, the office, or medical facilities.
Description
The ET-AS2P7 enhances a desktop space to unlock the most efficient space usage while securely fixing a monitor in its optimal viewing position. This ensures a flat screen stays in place once adjusted while retaining maximum adjustability for height, tilt, and pivot to reduce eye and neck strain.
Supporting a variety of mounting styles and sizes. It provides ease of use and functionality with a sleek design and makes the most of any desktop space. The ET-AS2P7 supports up to 2 32" monitors in size and a maximum supporting weight of 44 Lbs (20 Kg) for each display.
Features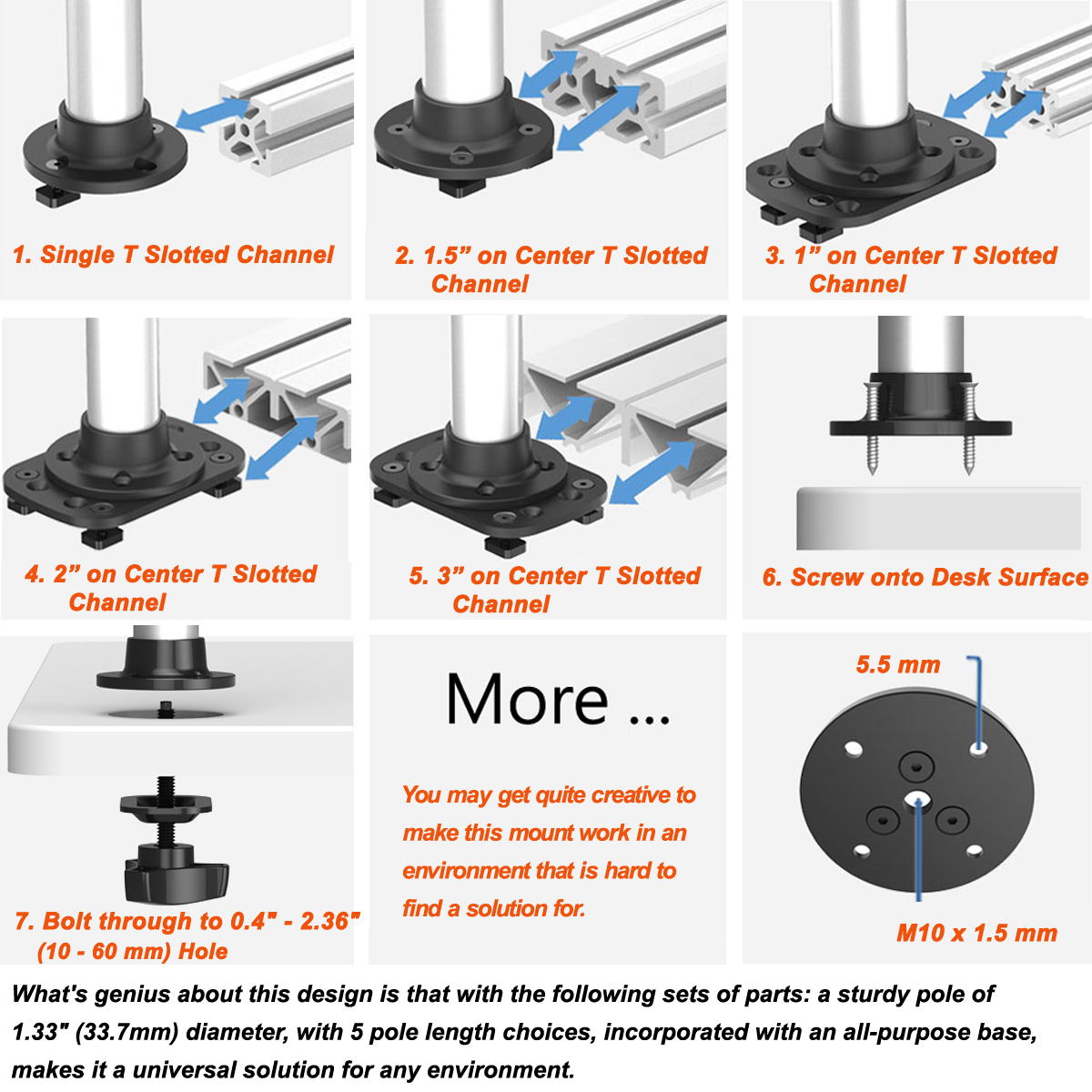 The ultimate in effortless fingertip monitor positioning.
Quick to install, and easy to use, providing a great wall mount solution for installing any flat panel monitor.
Dual-monitor configuration increases productivity.
Two pole length choices: 27.5" (700 mm) and 43.3" (1,100 mm)
Height Adjustment Range: 23.6" (600 mm) manually at the pole or 9.4" (238 mm) dynamically with Front-end Adjuster (FVL-S1) option
Can be configured to hold a laptop instead of an LCD simply by getting the VESA Compatible Laptop Tray (NBT-B1) option
Neat and efficient cable management
Easy installation and dis-installation.
Designed for the following Apple Monitors:

24-inch iMac (aluminum and glass)

27-inch iMac before 2013

24-inch LED Cinema Display

27-inch LED Cinema Display

27-inch Thunderbolt Display

21.5" or 27" iMac with Built-in VESA Mount Adapter after late 2012

27" iMac Retina with Built-in VESA Mount Adapter
27" iMac Pro with VESA Mount Adapter
32" Apple Pro Display XDR (2019) with VESA Mount Adapter. Please be sure to  purchase the VESA Adapter for this model from Apple

If your Apple monitor is not listed above, please contact us for solutions.
Weight Capacity

Supports up to 66 Lbs (30 Kg) in total

VESA Mounting Hole Pattern 75 x 75 and 100 x 100; can support 200 x 200 or 200 x 100 via additional adaptor plate (VSA-B2) option
Rotation

90° Landscape / Portrait

Tilt

115°, Backward -90°, +25° Forward

Swivel

Max 360°

Pole Length

27.6" (700 mm). Longer pole options available for 43.3" (1100 mm)

Height Adjustment Range 7.9" (200 mm) manually at the pole or 9.4" (238 mm) dynamically with Front-end Adjuster FVL-S1 option
Extends / Retracts Monitor

71.9" (1825 mm)

Grommet Table Thickness

0.5" - 2.5" (12.7 - 63.5 mm), Hole Diameter: 0.4"- 2.36" (10 - 60 mm)

Color

Metallic Silver & Glossy Black