Dual-Apple Monitor Desktop Mount Spring Arm
A pioneering, ergonomic design that supports height-adjustable dual desktop Apple display configurations. The two-way desk mount design capitalizes on the optimal utilization of available workspace and user comfort. At the same time, the spring arms allow users to adjust the two Apple monitors for different display needs effortlessly.
Description
Keeping up with the high-tech trends and movements in the workplace today, the spring arm model's state-of-the-art extendable and retractable neck is intended to fit a wide selection of Apple Display monitors. Our flexible design lets you position and rotates two monitors individually, allowing maximum space utilization and positioning for all viewers. Ideal for trading floors, software programmers, or any other functions for which one Apple display is not enough.
The DM-ASDSWPZ5 can easily rotate 90 degrees to a vertical portrait view, and the dual-monitor configuration allows for endless displaying possibilities. The heavy-duty desk clamp setting ensures that your monitors will stay put on any desk surface, and the metallic, aesthetic design is sure to complement every workplace. Get onboard with multi-panel living, declutter your workstation, and say goodbye to the hassles of switching back and forth between tabs with our comprehensive display solution!
Features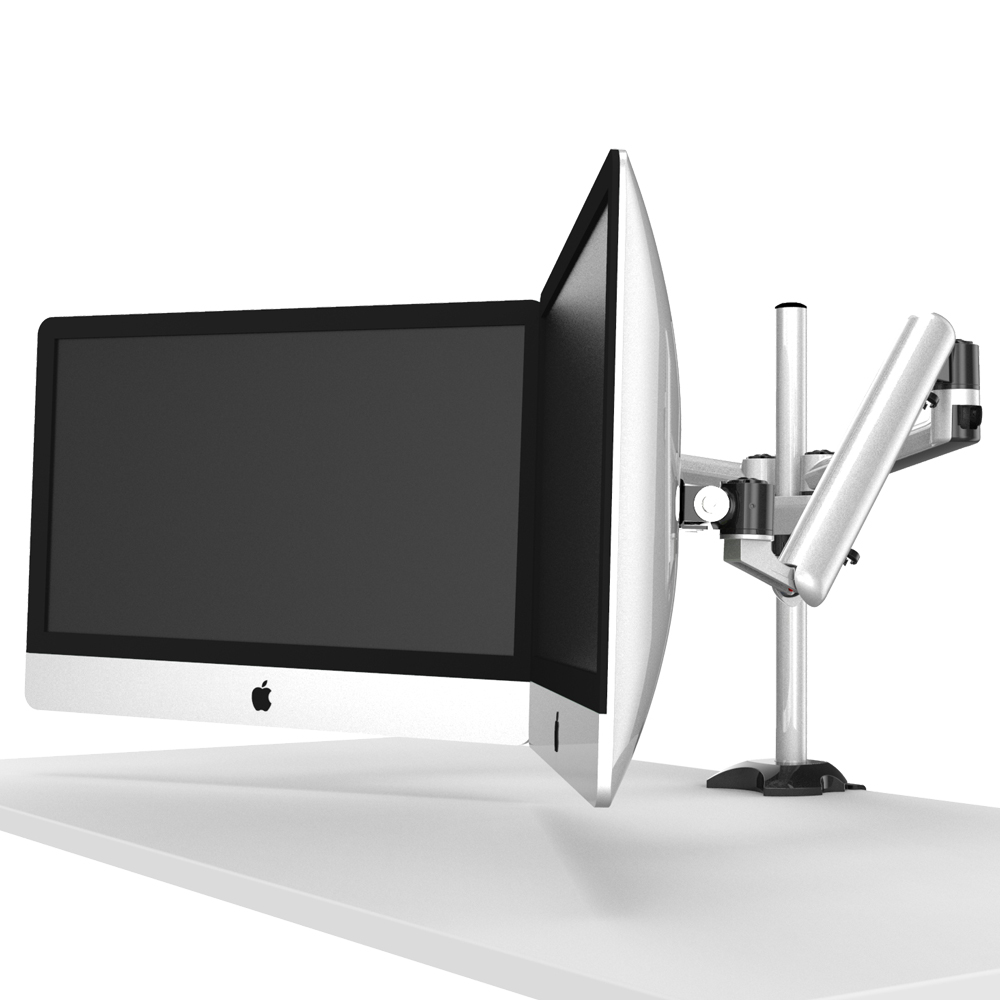 Standard Pole Length: 19.7" (500 mm); Additional four pole length choices availabel : 5.9" (150 mm), 11.8" (300 mm), 27.5" (700 mm) and 43.3" (1,100 mm)
The height of screens determines pole length choice and how many rows will be placed when multiple screens are involved.
Ergonomic design allows full-range positioning of display for maximum viewing comfort and workspace utilization.
The unique head design provides an unrivaled degree of flexibility for tablets and touch screens.
Ideal for supporting a laptop or tablet in a dual configuration with a monitor
Height Adjustment Range being the maximum in the market: 17.7" (450mm) dynamically, or 70° upward and 50° downward.
The monitor can be easily adjusted from a seated position
Silver finish is color stylishly coordinated with the metallic aluminum of iMac and Apple
Easy assembly for convenient usability
Cable management feature conceals and routes cables under the arm, out of the way.
Heavy-duty clamp and grommet mount base ensures greater stability of display and arm
It comes with both desk clamp and desk grommet base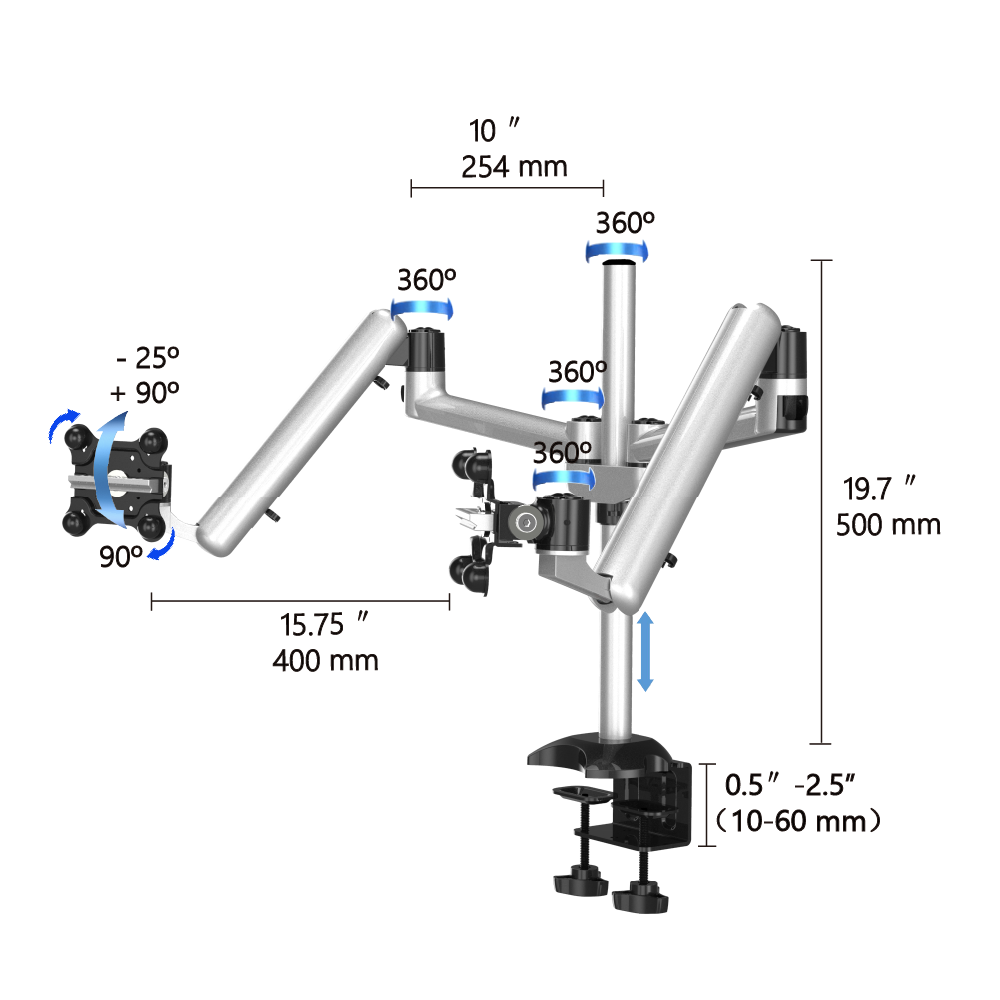 Designed for the following Apple Monitors:

24-inch iMac (aluminum and glass)

27-inch iMac before 2013

24-inch LED Cinema Display

27-inch LED Cinema Display

27-inch Thunderbolt Display

21.5" or 27" iMac with Built-in VESA Mount Adapter after late 2012

27" iMac Retina with Built-in VESA Mount Adapter
27" iMac Pro with VESA Mount Adapter
32" Apple Pro Display XDR (2019) with VESA Mount Adapter. Please be sure to  purchase the VESA Adapter for this model from Apple

If your Apple monitor is not listed above, please contact us for solutions.
Weight Capacity

Supports up to 18.3-29.7 Lbs (8.3-13.5 Kg) for each monitor

VESA Mounting Hole Pattern 75 x 75 and 100 x 100; can support 200 x 200 or 200 x 100 via additional adaptor plate (VSA-B2) option
Rotation

90° Landscape / Portrait

Tilt

115°, Backward -90°, +25° Forward

Swivel

360°

Pole Length

19.7" (500 mm). Longer pole options available for 27.6" (700 mm) and 43.3" (1100 mm)

Dynamic Height Adjustment

17.7" (450 mm) for each monitor

Extends / Retracts Monitor

Up to 28" (712 mm)

Clamp Table Thickness

0.5" - 2.5" (12.7 - 63.5 mm)

Grommet Table Thickness

0.5" - 2.5" (12.7 - 63.5 mm), Hole Diameter: 0.4"- 2.36" (10 - 60 mm)

Color

Metallic Silver & Glossy Black