2 Apple Monitor Stand 1X2 w/ 2-in-1 Base & Dual Swivel Arm
This sleek, enhanced model is the perfect solution for the office, healthcare and medical centers, and other customized workplaces. The reinforced crossbar offers extra support, allowing the model to carry heavy-set Apple monitors while still retaining the flexibility and quality that customers have come to expect from our brand.
Description
With user-friendliness at the heart of the design, the DM-AS2SWWDHV5 comes with dual swivel arms. Combining the dual swivel arm in this desk mount adjusts horizontally and vertically for easy repositioning, so you are always in control over your monitor displays.
The side-by-side monitors can be adjusted thanks to our innovative fine-tuning configuration independently. The durable crossbar allows support for most of the monitors in the market, giving you the freedom to comfortably float any two display monitors above your station as you see fit.
Designed to hold two Apple monitors of up to 33 Lbs (15 kg) each, this model comes complete with a silver dual-monitor desktop display with one individual swivel arm set on a crossbar and a set of table mounting clamps (desktop and tablet monitors not included). Declutter and work in a more comfortable and ergonomic workspace with our award-winning designs!
Features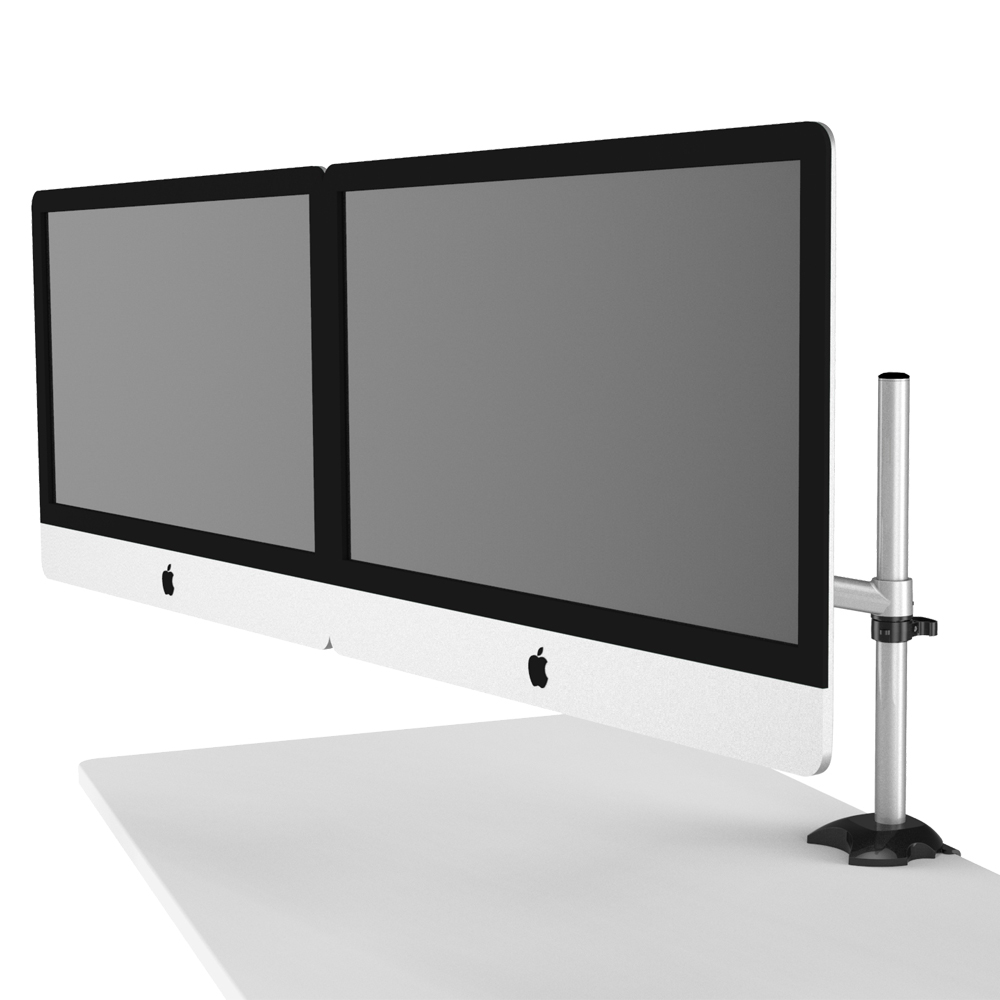 Standard Pole Length: 19.7" (500 mm); Additional three pole length choices availabel : 11.8" (300 mm), 27.5" (700 mm) and 43.3" (1,100 mm)
Frees up workspace by elevating monitor above desk.
Accommodates various display sizes; slide screens into place to align edges
Easy adjust by hands: 90 degree backward / 25 degree forward tilting, 90 degree rotation and 90 degree swivel
Foldable monitor arm is adjustable vertically up and down along the pole
Compact design, save a space
Polished aluminum construction offers greater durability and enhanced aesthetics
Easy assembly for convenient usability
Cable management feature conceals and routes cables under the arm, out of the way
Height Adjustment Range: 15.7" (400 mm) manually at the pole or 9.4" (238 mm) dynamically with Front-end Adjuster (FVL-S1) option
Heavy duty clamp and grommet mount base ensures greater stability of display and arm
Comes with both desk clamp and desk grommet base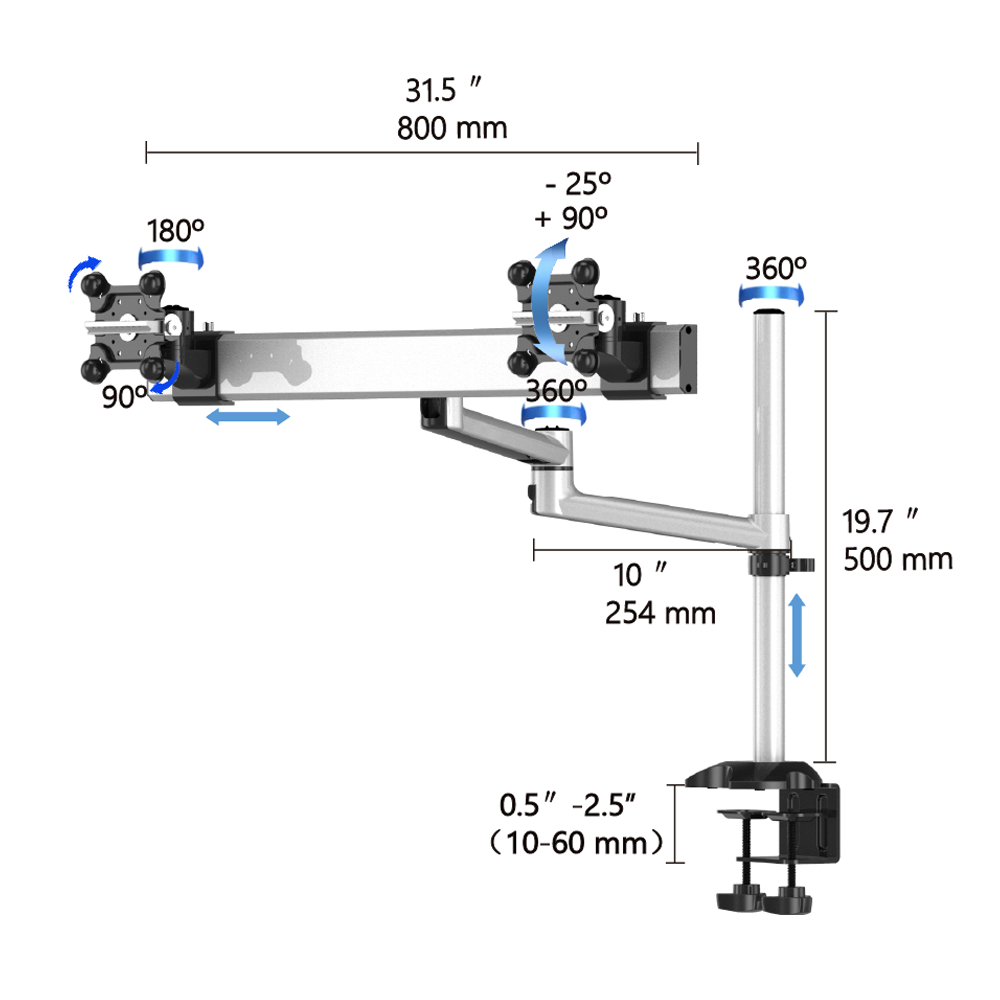 Designed for the following Apple Monitors:

24-inch iMac (aluminum and glass)

27-inch iMac before 2013

24-inch LED Cinema Display

27-inch LED Cinema Display

27-inch Thunderbolt Display

21.5" or 27" iMac with Built-in VESA Mount Adapter after late 2012

27" iMac Retina with Built-in VESA Mount Adapter
27" iMac Pro with VESA Mount Adapter
32" Apple Pro Display XDR (2019) with VESA Mount Adapter. Please be sure to  purchase the VESA Adapter for this model from Apple

If your Apple monitor is not listed above, please contact us for solutions.
Weight Capacity

Supports up to 66 Lbs (30 Kg) in total

VESA Mounting Hole Pattern 75 x 75 and 100 x 100; can support 200 x 200 or 200 x 100 via additional adaptor plate (VSA-B2) option
Rotation

90° Landscape / Portrait

Tilt

115°, Backward -90°, +25° Forward

Swivel

360°

Pole Length

19.7" (500 mm). Longer pole options available for 27.6" (700 mm) and 43.3" (1100 mm)

Height Adjustment Range 7.9" (200 mm) manually at the pole or 9.4" (238 mm) dynamically with Front-end Adjuster FVL-S1 option
Extends / Retracts Monitor

Up to 24" (610 mm)

Clamp Table Thickness

0.5" - 2.5" (12.7 - 63.5 mm)

Grommet Table Thickness

0.5" - 2.5" (12.7 - 63.5 mm), Hole Diameter: 0.4"- 2.36" (10 - 60 mm)

Color

Metallic Silver & Glossy Black