Vertical Three Apple Monitor Desktop Mount
In keeping with the saying that simplicity is the best, this desk-mounted Apple monitor is where form and functionality get integrated with functionality. Beautifully crafted and deceivingly simplistic, the vertical desk mount lets you display three monitors on its durable bars.
Description
Accommodating up to three Apple monitors, the DM-AS3FN9 saves you precious workspace and the hassle of switching back and forth between various windows. Its height-adjustable design allows you to reposition each of the three Apple monitors easily. The visual display on the two arms can also be independently pivoted up to 15 degrees when they need to be viewed from an angle or adjusted horizontally along the bar, making display alignment a breeze. The center monitor can also be adjusted along with the mounted stand. You will enjoy such freedom with this desk mount!
Constructed from lightweight and durable aluminum, the DM-AS3FN9 model comes with a set of universal, heavy-duty desk clamps, ensuring that your monitors will stay put on any desk surface. Perfect for designers, programmers, medical/healthcare facilities, and any other workstations where one monitor isn't enough. Meet your display needs in style!
Features
Pole Length: 43.3" (1,100 mm), Support vertical three Apple monitors
Compact and unique design frees up desktop space
May rotate, tilt and swivel each screen independently. Rotation: 90 degrees, Tilting: Backward -90 degree/+25 degree Forward, Swivel: 180 degree
Quick-release monitor head
Easy manual height adjustment
Lightweight, fully adjustable, and easy to install
Cable management clips on the backside of the arm route and hide cords
Height Adjustment Range: 16.5" (420 mm) manually at the pole or 9.4" (238 mm) dynamically with Front-end Adjuster (FVL-S1) option
It can be configured to hold a laptop instead of an LCD simply by getting the VESA Compatible Laptop Tray (NBT-B1)
Heavy-duty clamp and grommet mount base ensures greater stability of display and arm
It comes with both desk clamp and desk grommet base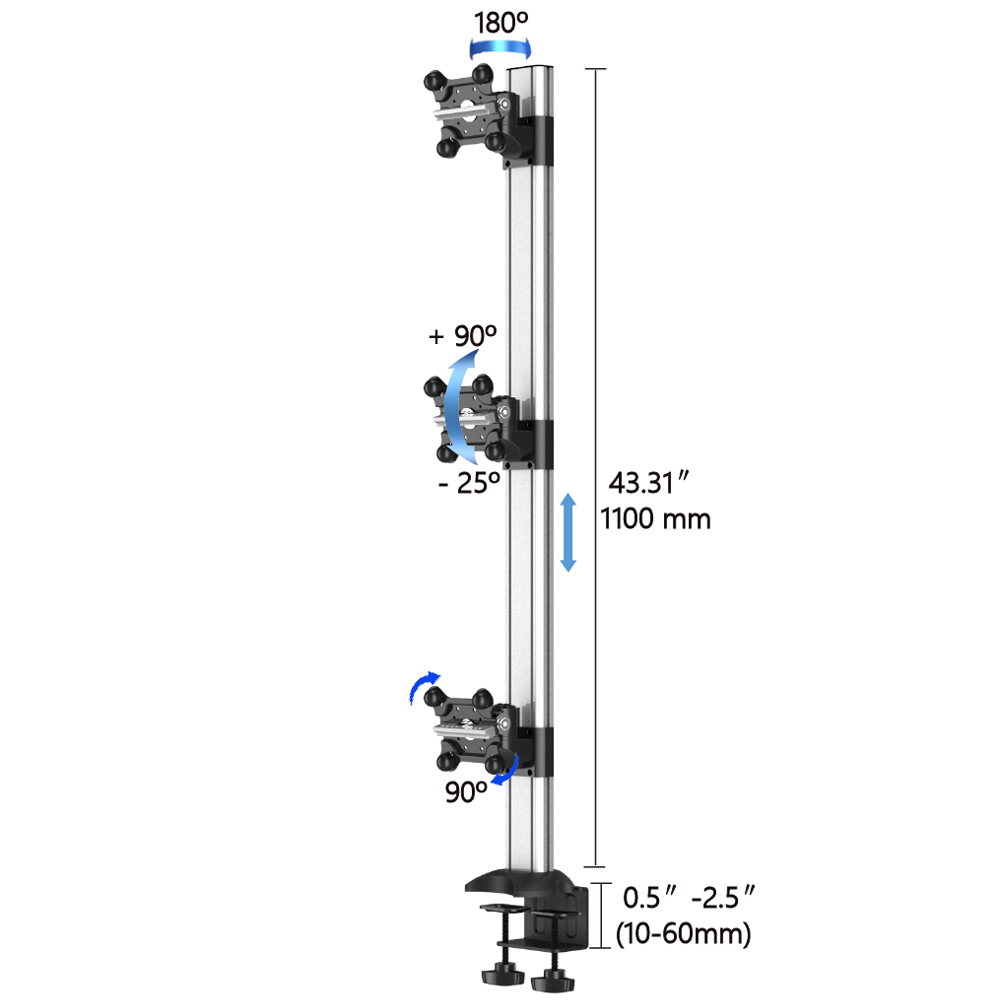 Designed for the following Apple Monitors:

24-inch iMac (aluminum and glass)

27-inch iMac before 2013

24-inch LED Cinema Display

27-inch LED Cinema Display

27-inch Thunderbolt Display

21.5" or 27" iMac with Built-in VESA Mount Adapter after late 2012

27" iMac Retina with Built-in VESA Mount Adapter
27" iMac Pro with VESA Mount Adapter
32" Apple Pro Display XDR (2019) with VESA Mount Adapter. Please be sure to  purchase the VESA Adapter for this model from Apple

If your Apple monitor is not listed above, please contact us for solutions.
Weight Capacity

Supports up to 132 Lbs (60 Kg) in total

VESA Mounting Hole Pattern 75 x 75 and 100 x 100; can support 200 x 200 or 200 x 100 via additional adaptor plate (VSA-B2) option
Rotation

90° Landscape / Portrait

Tilt

115°, Backward -90°, +25° Forward

Swivel

360°

Pole Length

43.3" (1,100 mm)

Height Adjustment Range 7.9" (200 mm) manually at the pole or 9.4" (238 mm) dynamically with Front-end Adjuster FVL-S1 option
Extends / Retracts Monitor

71.9" (1825 mm)

Clamp Table Thickness

0.5" - 2.5" (12.7 - 63.5 mm)

Grommet Table Thickness

0.5" - 2.5" (12.7 - 63.5 mm), Hole Diameter: 0.4"- 2.36" (10 - 60 mm)

Color

Metallic Silver & Glossy Black