SturdyScreen Triple Apple Monitor Adjustable Pivot Desk Mount
An adjustable triple Apple monitor desk mount that combines key features into a sturdy design makes it easy to adhere to proper workplace ergonomics. Making it the ideal system for multi-screen applications such as trading floors and control rooms.
Description
Attention to proper workplace ergonomics is key to ensuring both maximal comfort and optimal efficiency when setting up any workspace. The SturdyScreen Triple Apple Monitor Adjustable Pivot Desk Mount was designed to provide flawless viewing capabilities while reducing and eliminating undue stress and discomfort.
An excellent workspace addition suited to accommodate three Apple monitors up to 27" in size with a 75 x 75 or 100 x 100 mounting pattern, with a maximum weight capacity of 44 lbs for each monitor. Installation is quick, easy, and takes only a matter of moments. The design embodies a handsome silver and glossy black aesthetic that will look right even at home among any office décor arrangement.  SturdyScreen is always ready when you are and provides 360° panning, forward and backward tilt, and 90° rotation for portrait and landscape orientation viewing.
When you're done for the day, enjoy a clutter-free desktop courtesy of the space-saving design. Since the mount keeps your monitor securely situated above the desk's surface, there'll be plenty of additional room for storing cables, accessories, and other essentials. Improved organization leads to less hassle and stress throughout the day, allowing you to be better prepared for whatever challenges the day may bring! 
Features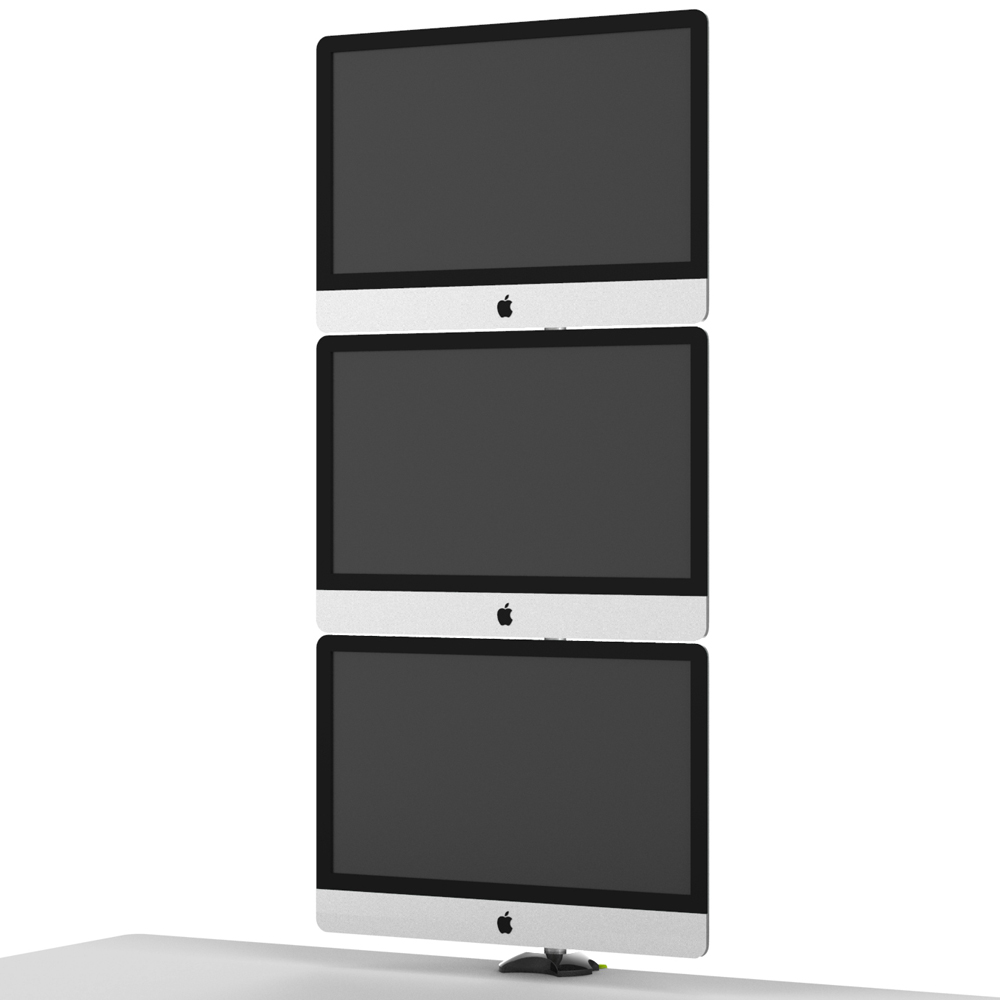 Supports three compatible Apple displays up to 27."
Provides full-range of tilting, swiveling, and rotation to maximize display viewing comfort by reducing neck and eye strain
Constructed from lightweight-yet-durable polished aluminum and black trim for maximum strength, environmentally friendliness, bold aesthetics, and extended life
Mount includes desk clamp and grommet (goes through a hole) base
Clamp table thickness : 0.5"- 2.5" ( 12.7 - 63.5 mm)
Grommet table thickness : 0.5"-2.5" (12.7 - 63.5 mm); Hole Diameter: 0.4"- 2.36" (10 - 60 mm)
Quick-release/attachment mounting heads to assist with multiple installations
Install the brackets at any point on the vertical bar. Variable height adjustment - placing the screens at the right height for you by sliding along the grooves
Excellent space-saving and ergonomic solution; Can expand to support more monitors without disturbing the original configuration
Neat and efficient cable management
Designed with state of the art engineering technologies; Safe, easy to use; Simple installation and effortless operation.
It can be configured to hold a laptop instead of an LCD simply by getting the VESA Compatible Laptop Tray (NBT-B1)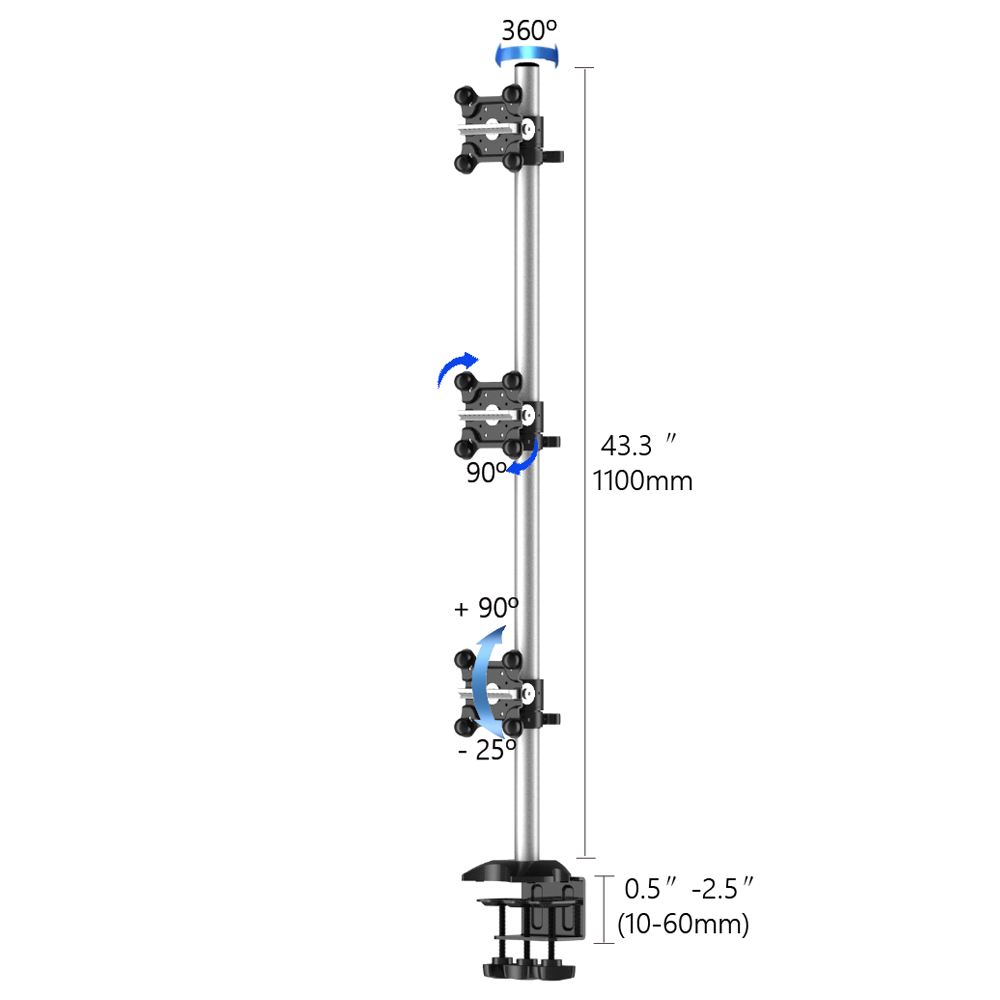 Designed for the following Apple Monitors:

24-inch iMac (aluminum and glass)

27-inch iMac before 2013

24-inch LED Cinema Display

27-inch LED Cinema Display

27-inch Thunderbolt Display

21.5" or 27" iMac with Built-in VESA Mount Adapter after late 2012

27" iMac Retina with Built-in VESA Mount Adapter
27" iMac Pro with VESA Mount Adapter
32" Apple Pro Display XDR (2019) with VESA Mount Adapter. Please be sure to  purchase the VESA Adapter for this model from Apple

If your Apple monitor is not listed above, please contact us for solutions.
Weight Capacity

Supports up to 132 Lbs (60 Kg) in total

VESA Mounting Hole Pattern 75 x 75 and 100 x 100; can support 200 x 200 or 200 x 100 via additional adaptor plate (VSA-B2) option
Rotation

90° Landscape / Portrait

Tilt

115°, Backward -90°, +25° Forward

Swivel

360°

Pole Length

43.3" (1,100 mm)

Height Adjustment Range 7.9" (200 mm) manually at the pole or 9.4" (238 mm) dynamically with Front-end Adjuster FVL-S1 option
Extends / Retracts Monitor

71.9" (1825 mm)

Clamp Table Thickness

0.5" - 2.5" (12.7 - 63.5 mm)

Grommet Table Thickness

0.5" - 2.5" (12.7 - 63.5 mm), Hole Diameter: 0.4"- 2.36" (10 - 60 mm)

Color

Metallic Silver & Glossy Black