SwivelScreen Adjustable Wall Mount
All the mobility you'd expect from an adjustable wall mount with additional extension/retraction capabilities, designed for maximum comfort and efficiency.
Description
It's easy to forget about how important it is to remain comfortable when having to constantly change positions at work, while still relying on your computer monitor to get things done. Chances are that you don't realize just how important adhering to proper ergonomics is until eye strain and neck pain creep up at the end of the work day.  Put an end to "computer neck" before it even begins with the SwivelScreen Adjustable Wall Mount!
What sets this model apart from other monitor wall mounts is the ability to extend/retract up to 12", allowing you to bring the monitor closer to your position.  Couple this with full 360° panning, 115° of forward and backward tilt, rotation from portrait to landscape orientation, and optional dynamic height adjustment up to 9.4" with Dynamic Height Adjuster (Select One) accessory, and you've got a mount that puts your monitor wherever you need to be!
Installation is quick and simple, and the SwivelScreen Adjustable Wall Mount will accommodate most standard VESA mounting hole patterns.  The swivel arm enables the entire unit folds away unobtrusively. The space-saving design keeps your desktop surface free of clutter.  With the SwivelScreen, your work day just got a lot more comfortable!
Features
Supports flat panel VESA monitors up to 32" with mounting hole patterns of 75 x 75 and 100 x 100, and can be modified to support monitors up to 50" with either 200 x 200 or 400 x 400 mounting hole patterns (by use of an additional adapter, sold separately)
Low profile makes it perfect for space-constrained areas
Provides full-range of extending, retracting, tilting, swiveling, rotation and optional dynamic height adjustment motions to maximize display viewing comfort by reducing neck and eye strain
Constructed from lightweight-yet-durable polished aluminum and black trim for maximum strength, environmentally friendliness, bold aesthetics and extended life
Quick release/attachment mounting head and swivel arm to assist with multiple installations
Dynamically adjust height up to 9.4" with Dynamic Height Adjuster (Select One) optional accessory
Mount on single stud
Cable management housings and clips on the underside of the arms route and hide cords
Excellent space saving and ergonomic solution
Designed with state of the art engineering technologies; Safe, easy to use; Simple installation and effortless operation
Can be configured to hold a laptop instead of an LCD display simply by getting the VESA Compatible Laptop Tray (NBT-B1)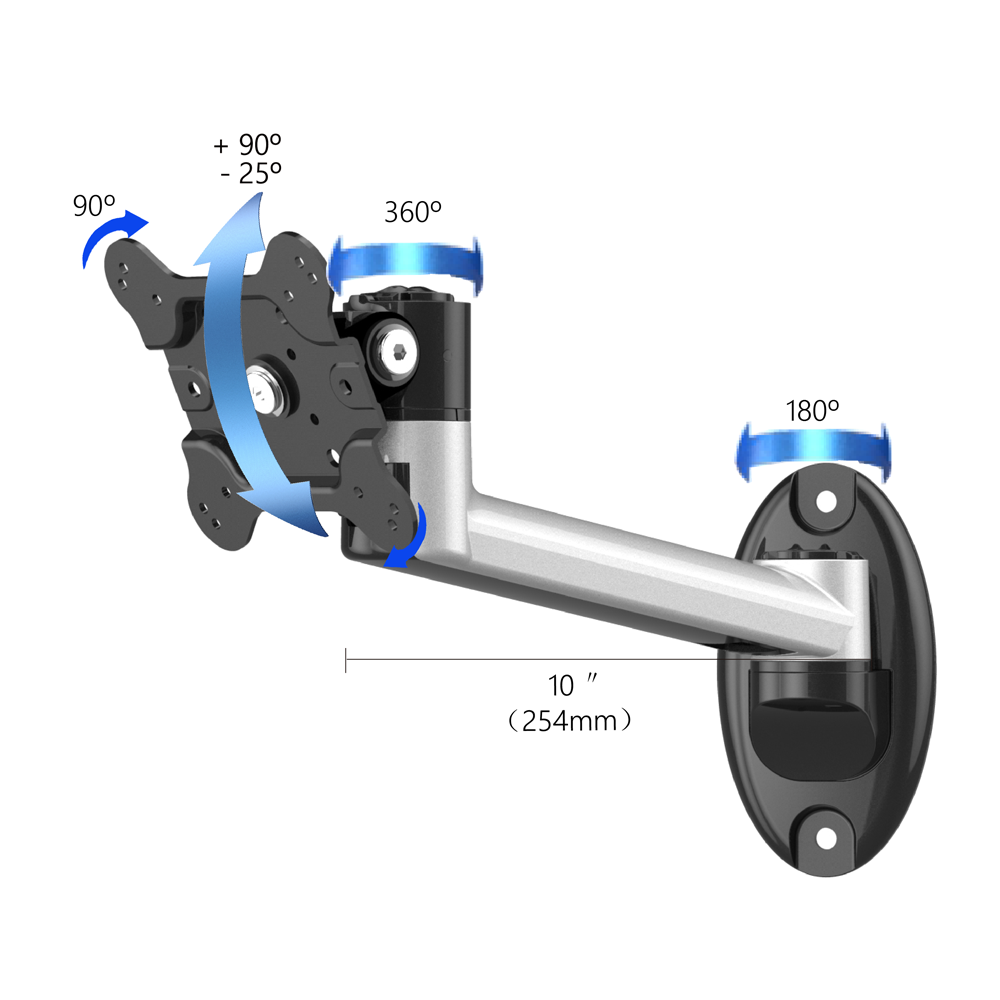 Fits Monitor Sizes

Supports up to 50" flat panel screen

Weight Capacity

Supports up to 44 Lbs (20 Kg)

VESA Mounting Hole Pattern 75 x 75 and 100 x 100; can support 200 x 200 or 200 x 100 via additional adaptor plate (VSA-B2) option
Rotation

90° Landscape / Portrait

Tilt

115°, Backward -90°, +25° Forward

Swivel

180°

Height Adjustment Range 9.4" (238 mm) dynamically with Front-end Adjuster (FVL-S1) option
Minimum Profile From Wall

4.3" (109 mm)

Maximum Extension

14" (356 mm)

Wall Plate Dimensions

Wide: 6.25" X High: 4.25" X Deep: 19.5" (159 X 108 X 495 mm)

Mounts on Studs

Single-stud

Type of Display PC monitor, compatible Apple display with option part # ADA-S1 & TV with option part# VSA-B4
Color

Metallic Silver & Glossy Black