Over Under Flat Panel Five Monitor Wall Mount w/Extension
House two screens on top and three on the bottom with a unit that is especially useful for instances requiring employees to work side-by-side.
Description
Two heads are better than one, but only when each has its own screen to work off of! The Over Under Flat Panel Five Monitor Wall Mount is an excellent choice for safely securing five 28" flat-panel screens horizontally, making for easy access for employees working in close quarters.
Attached to the solid center bar are horizontal crossbars, of which the upper can support two screens while the lower holds three additional. Compatible with both PC and Apple products (requires an additional adapter), the mount carries a maximum weight capacity of 110 lbs. You'll enjoy a great view with an extensive array of options available at each bracket, including 90° rotation from portrait to landscape mode, 115° of tilt (-90° backward, +25° forwards), 180° of swivel, and 8" of extension. Dynamic height adjustability up to 9.4" is also possible.
No matter your skill level, you'll have no problem installing this mount in your place of business. It supports VESA mounting hole patterns of 75 x 75 and 100 x 100 (can support 200 x 100 or 200 x 200 via an additional adaptor plate, sold separately). In just a matter of minutes, your team will have access to everything they need to ensure that your organization succeeds!
Features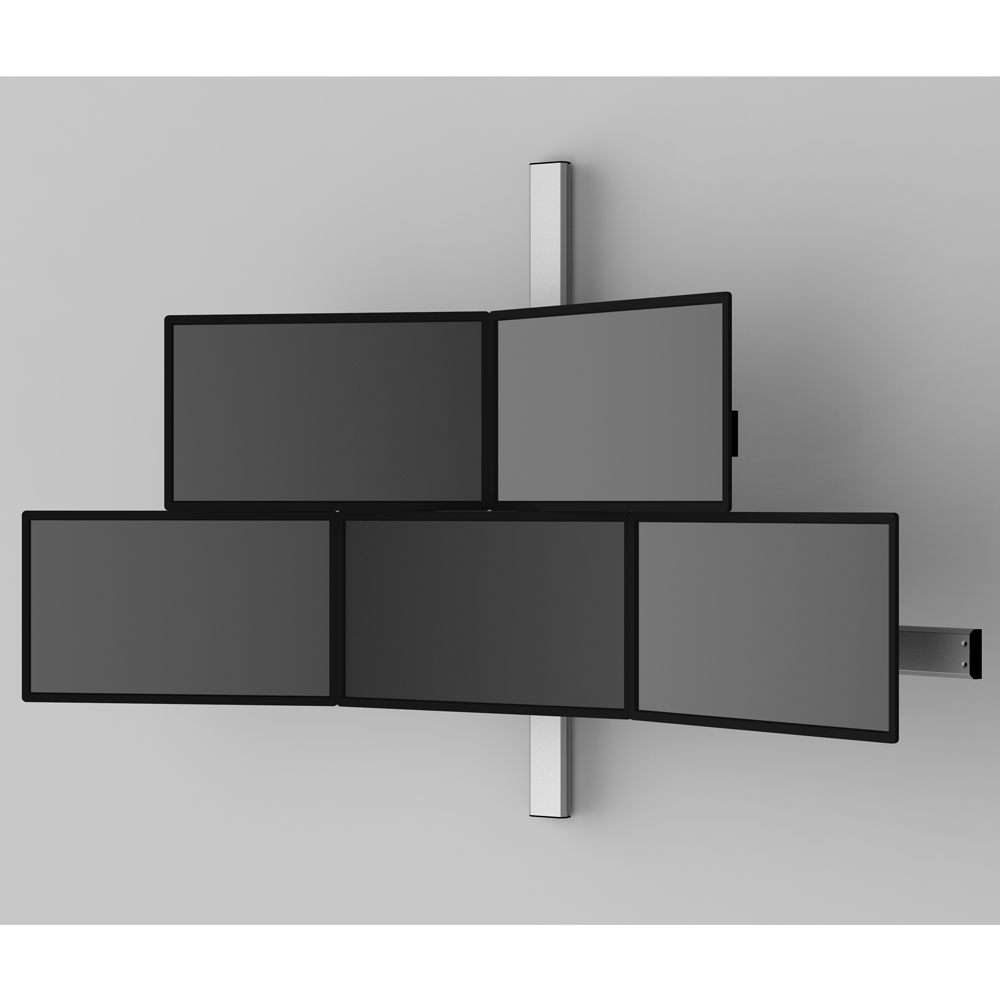 Wall mount type supports five monitors up to 28"
Maximum productivity and supreme ergonomic comfort
Two lateral beams are connected to a 21.25" (540 mm) central beam with articulating hinges that can be angled to create an arc shape
Each monitor tilts, swivels, and rotates individually on its tilts head mount
Ergonomic Aluminium Structure design
Quick to install, and easy to use, providing a great wall mount solution for installing any flat panel monitor
Neat and efficient cable management
Height Adjustment Range: 9.4" dynamically with Front-end Adjuster (FVL-S1) option
Can be configured to hold a laptop instead of an LCD display simply by getting the VESA Compatible Laptop Tray (NBT-B1)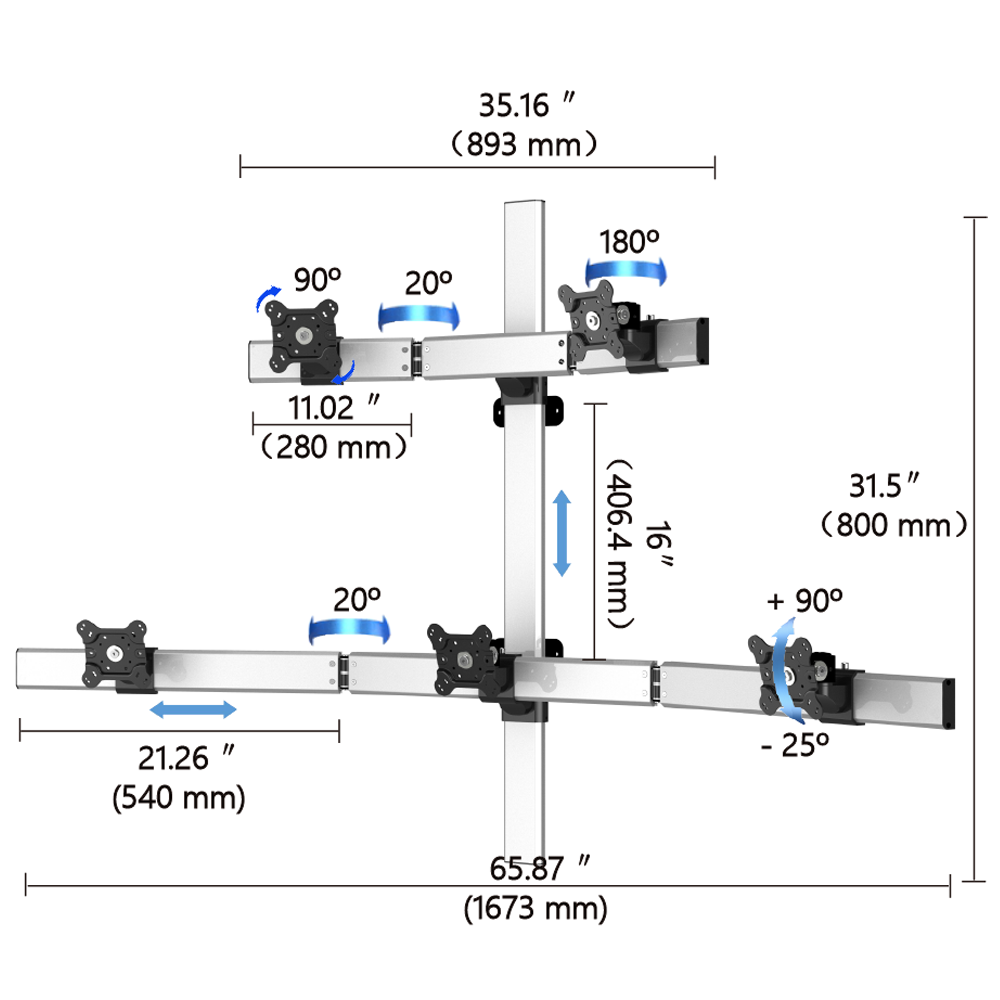 Fits Monitor Sizes

Supports up to 5 x 28" flat panel screen

Weight Capacity

Supports up to 132 Lbs (60 Kg) in total

VESA Mounting Hole Pattern 75 x 75 and 100 x 100; can support 200 x 200 or 200 x 100 via additional adaptor plate (VSA-B2) option
Rotation

90° Landscape / Portrait

Tilt

115°, Backward -90°, +25° Forward

Swivel

180°

Height Adjustment Range 9.4 inch (238 mm) dynamically with Front-end Adjuster (FVL-S1) option
Minimum Profile From Wall

8" (205 mm)

Maximum Extension

8" (205 mm)

Wall Mount Bar Length

2.9" X 31.5" (74 X 800 mm)

Mounts on Studs

Single-stud

Type of Display PC monitor & compatible Apple display with option part # ADA-S1
Color

Metallic Silver & Glossy Black