Lucky Seven Multi-Screen Freestanding Desktop Monitor Mount
This stand can display up to seven individual screens, which combines quality and convenience in one complete package.
Description
If you need to display multiple LCD monitors, don't allow yourself to be deceived by inferior mounting products, those crafted from shoddy materials, or don't employ a large enough base to support the special circumstances of housing multiple screens. Only select a solution that can ensure that your expensive tech is kept safe and secure every time you use it.
The Lucky Seven Multi-Screen Freestanding Desktop Monitor Mount can properly support up to seven individual monitors, up to 28" with a total weight capacity of 88 lbs. An extra-long 43.3" center pole serves as an attachment for additional arms at either side, which is where the mounting brackets are located. Each screen can function independently of the others and delivers key customizable viewing options, including 90° rotation from portrait to landscape mode, 115° of tilt (-90° backward, +25° forwards), and 20° of swivel. Dynamic height adjustability is also available, up to 9.4".
When displaying multiple screens, special attention should be paid to the weight distribution to minimize any opportunities for unsteadiness or accidental tipping. With a large base of support that measures 25.11" front width X 15" depth X 9.4" back, you'll have an important safeguard against any mishaps. Installation is quick and easy for users of all skill levels. It supports VESA mounting hole patterns of 75 x 75 and 100 x 100 (can support 200 x 100 or 200 x 200 via an additional adaptor plate, sold separately). The entire unit is set up easily on any desktop or other flat surface.
Quality and convenience are but two highlights of the Lucky Seven Multi-Screen Freestanding Desktop Monitor Mount, a mounting solution that's ready to earn your trust.
Features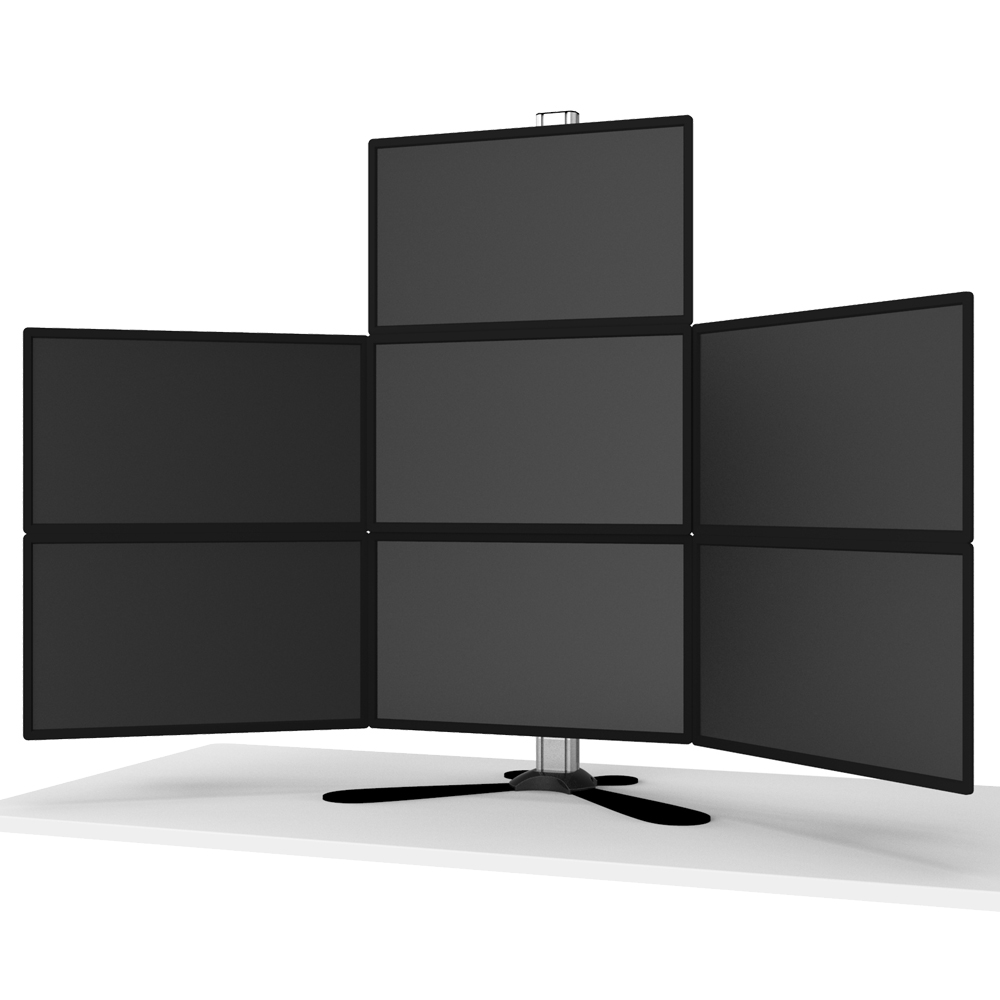 The Seven Monitors Freestanding Mount provides an aesthetic & stable solution.
Accommodates various LCD sizes; slide displays into place, so screen edges align
Independent adjustment of each screen for proper ergonomic
Open and view multiple applications and documents, eliminating the need to toggle between applications
Durable aluminum and steel construction creates an extremely stable platform
Maximum productivity and supreme ergonomic comfort
Conserve desk space by suspending six flat panels on a single base. Easily view multiple screens at once to increase productivity
Space-saving with its compact design
Free-standing design allows for ultimate ease of installation and relocation.
Everything is included to neatly route cables behind the stand, out of the way.
Our most cost-effective 7 screen solution
Freestanding solution. It can be placed anywhere and moved around easily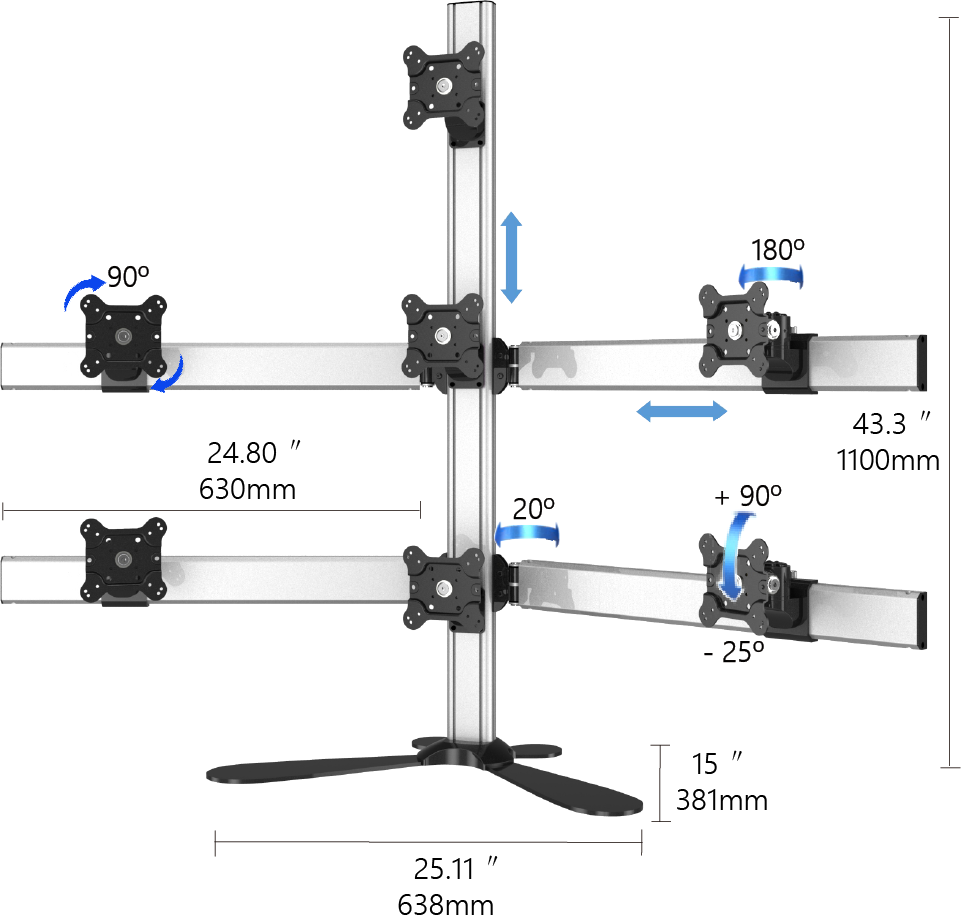 Fits Monitor Sizes

Supports up to 7 x 30" flat panel screen

Weight Capacity

Supports up to 110 Lbs (50 kg) in total

VESA Mounting Hole Pattern 75 x 75 and 100 x 100; can support 200 x 200 or 200 x 100 via additional adaptor plate (VSA-B2) option
Rotation

90° Landscape / Portrait

Tilt

115°, Backward -90°, +25° Forward

Pan

20°

Pole Length

43.3" (1,100 mm)

Height Adjustment Range 7.9" (200 mm) manually at the pole or 9.4" (238 mm) dynamically with Front-end Adjuster (FVL-S1) option
Bottom Feet Dimensions

25.1" X 15" (638 mm X 381 mm) (W X D)

Type of Display PC monitor & compatible Apple display with option part # ADA-S1
Color

Metallic Silver & Glossy Black