Interactive 32" to 50" TV Slatwall Mounts, Spring Arm
A slat wall mount built exclusively for modern-day TVs is thinner, lighter, and more powerful than ever before!
Description
It's been said that great things come in small packages, and today's TVs are some of the smallest and thinnest models ever produced. If your organization embraces the minimalist culture when it comes to your workplace technology, then your accessories can follow suit with the Slim n' Swivel Slat Wall TV Mount!
Properly display any flat-screen computer TV up to 50" with a maximum weight of 29.7 lbs (13.5 kg). With this high-quality mounting solution that delivers 90° landscape-to-portrait rotation, 115° of tilt (-90° backwards/+25° forwards), full 180° swivel functionality, and the ability to extend the screen by 50". Dynamically adjust your screen up to 17.7" (450 mm) should you prefer to stand while working. A minimum depth of only 4.3" creates an unobtrusively appealing aesthetic.
Built to support slat wall groove edge thickness of 0.079" - 0.35" and spacing of 1.27"- 6", the Slim n' Swivel Slat Wall TV Mount is easy to install in VESA hole mounting patterns of 75 x 75 and 100 x 100, 200 x 100 and 200 x 200, 300 x 300, 400 x 200, 400 x 400. The sleek look and seamless operation hold their own against other similar models, while the vast display offerings outperform other units typically found in this same category of the mount.
Features
Ergonomic design allows full-range positioning of display for maximum viewing comfort and workspace utilization.
With its mobility, flexibility, and chic appearance, this LCD wall mount will surely meet your TV mount needs.
17.7-inch (450 mm) height range allows users to move between sitting and standing positions while they interact with the display
Extends up to 23.8" (60.5 cm) from the wall and retracts to within 5.8" (14.8 cm), excluding the depth of the TV
Swivel arm features quick release design: only a matter of a 'click' to get connected and with a push of a button then lift off to get disconnected.
Sleek, solidly-constructed forged aluminum arms in subtle silver and black finishes
Cable management clips on the underside of the arm route and hide wires
It can be optimized for touchscreen use
Easy installation and dis-installation
Made predominantly of steel and aluminum, which are highly recyclable
It can be configured to hold a laptop instead of an LCD simply by getting the VESA Compatible Laptop Tray (NBT-B1)
Upgrade LCD TVs and TVs with improved ergonomic adjustment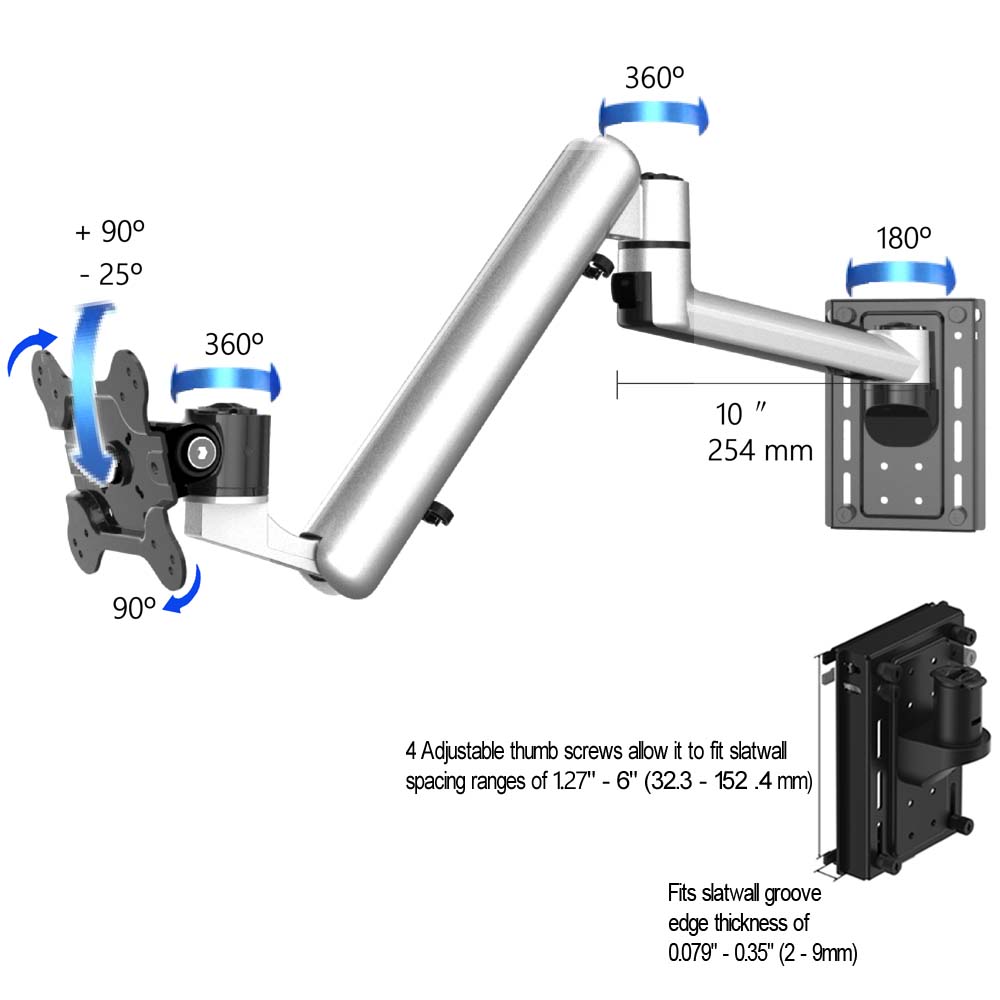 Fits TV Sizes

32" to 50" Flat panel screen

Weight Capacity

Supports up to 18.3-29.7 Lbs (8.3-13.5 Kg)

VESA Mounting Hole Pattern

75x75, 100x100 and 200x100 or 200x200, 300x300, 400x200 or 400x400 hole pattern

Rotation

90° Landscape / Portrait

Tilt

115°, Backward -90°, +25° Forward

Swivel

Max 180°

Dynamic Height Adjustment

17.7" (450 mm)

Minimum Profile From Wall

4.4" (112 mm)

Maximum Extension

27" (685 mm)

Compatible Slatwall

Universal

Color

Metallic Silver & Glossy Black