Perfect Pair Dual Monitor Slat Wall Mount w/ Tilt and Swivel
Slat wall mount delivers all of the great display features of our other products, but in a unit that can accommodate 2 separate screens!
Description
Your workplace prides itself on being a beacon of productivity and efficiency, and that serves as a testament to the strong work ethic, masterful execution, and tireless efforts of a hardworking staff that's devoted to getting things done. The Perfect Pair Dual Monitor Slat Wall Mount is a mounting solution that pays homage to your organization's commitment to operating in the most proficient ways possible.
Crafted as a single, reliably sturdy unit, this mount can properly display 2 separate flat-panel monitors up to 32" in size with a maximum weight capacity of 19.8 lbs. (per monitor). Arms can adjust independently. Each provides key ergonomic display features, including 90° landscape-to-portrait rotation, 115° of tilt (-90° backwards/+25° forwards), full 180° swivel functionality, and the ability to extend up to 28". Dynamically adjust your screen up to 17.7" on the fly. The minimum depth is only 4.3", which keeps the unit from intruding in your personal workspace.
Built to support slat wall groove edge thickness of 0.079" - 0.35" and spacing of 1.27"- 6", the Perfect Pair Dual Monitor Slat Wall Mount easily installs in VESA hole mounting patterns of 75 x 75 and 100 x 100 (can also support 200 x 100 and 200 x 200 via an additional adapter plate, sold separately).
For any professional environment that appreciates maximizing resources to stay at the top of their game, the Perfect Pair Dual Monitor Slat Wall Mount is ideal for utilizing space and workforce.
Features
Works with all kinds of slat walls
Supports two flat-panel VESA monitors up to 32" with mounting hole patterns of 75 x 75 and 100 x 100 and can be modified to support either 200 x 200 or 400 x 400 mounting hole patterns (by use of an additional adapter, sold separately)
Low profile makes it perfect for space-constrained areas
Provides full-range of extending, retracting, tilting, swiveling, rotation, and optional dynamic height adjustment motions to maximize display viewing comfort by reducing neck and eye strain
Constructed from lightweight-yet-durable polished aluminum and black trim for maximum strength, environmentally friendliness, bold aesthetics, and extended life
Quick-release/attachment mounting head and arms to assist with multiple installations
Dynamically adjust height up to 9.4" with Dynamic Height Adjuster optional accessory
Spring Arm dynamic height adjustment range of 17.7 "(450 mm) makes it the largest market. It allows users to move between sitting and standing positions while interacting with the display
Three weight capacity options to choose from: 2.2-12.1lbs (1-5.5Kgs); 6.2-18.7lbs (2.8-8.5Kgs) and 17.6-29.7lbs (8-13.5Kgs). Monitors meeting minimum weight requirements (without stand) are sure to achieve an extremely smooth dynamic height adjustment feature
Cable management housings and clips on the underside of the arms route and hide cords
Excellent space-saving and ergonomic solution
Designed with state of the art engineering technologies; Safe, easy to use; Simple installation and effortless operation
Can be configured to hold a laptop instead of an LCD simply by getting the VESA Compatible Laptop Tray (NBT-B1)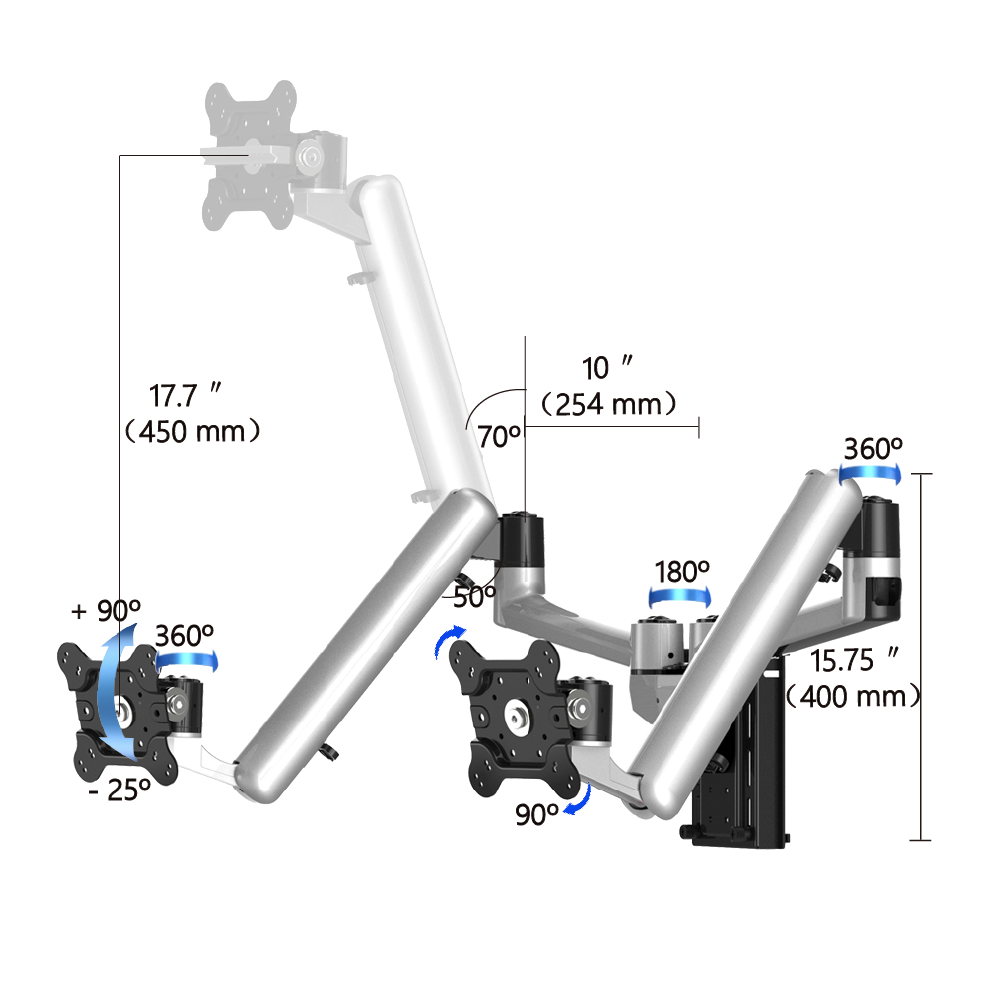 Fits Monitor Sizes

Supports up to 2 x 32" flat panel screen

Weight Capacity

Supports up to 7.0 -19.8 Lbs (3.2 - 9.0 Kg) for each

VESA Mounting Hole Pattern 75 x 75 and 100 x 100; can support 200 x 200 or 200 x 100 via additional adaptor plate (VSA-B2) option
Rotation

90° Landscape / Portrait

Tilt

115°, Backward -90°, +25° Forward

Swivel

180°

Dynamic Height Adjustment

17.7" (450 mm) for each

Minimum Profile From Wall

4.3" (109 mm)

Maximum Extension

32" (762 mm)

Compatible Slatwall

Universal

Type of Display PC monitor & compatible Apple display with option part # ADA-S1
Color

Metallic Silver & Glossy Black