Dual Monitor Wall Mount Straight or Arc
Two lateral beams are artfully connected to the central beam with articulating hinges that can be angled to create an arc shape when desired.
Description
The side-by-side monitors can be adjusted precisely and independently, thanks to our innovative fine-tuning configuration. The durable crossbar allows support for most of the monitors in the market up to 32", giving you the freedom to comfortably float any two display monitors above your station as you see fit.
Polished aluminum alloy has a shiny, brushed look against bright black accent connectors and fittings. Cords are artfully controlled for a sleek, clean look that matches this exceptional dual monitor wall mount's modern design. Best of all, you can rely on the lasting strength and durability of the industrial-grade mounting bracket and state-of-the-art arm design to keep your monitors safe.
Install the mount in mere minutes and easily organize your cords with the built-in cord management feature to minimize unsightly connections and minimize distractions. After installation, you're left with a modern, sleek mounting system that combines the bright, clean styling of polished aluminum alloy with an organized, seamless screen arrangement.
Features
Supports two flat-panel VESA monitors side by side straight or arced up to 32" with mounting hole patterns of 75 x 75 and 100 x 100
Provides extensive-range of tilting, swiveling, rotation, and optional dynamic height adjustment motions to maximize display viewing comfort by reducing neck and eye strain
Constructed from lightweight-yet-durable polished aluminum and black trim for maximum strength, environmentally friendliness, bold aesthetics, and extended life
Mount on a single stud
Horizontal 3-section 2-fold joint beam length: 35.15" (89.3cm)
Quick-release/attachment mounting heads to assist with multiple installations
Dynamically adjust height up to 9.4" with Dynamic Height Adjuster optional accessory
Excellent space-saving and ergonomic solution
Neat and efficient cable management
Designed with state of the art engineering technologies; Safe, easy to use; Simple installation and effortless operation
Can be configured to hold a laptop instead of an LCD display simply by getting the VESA Compatible Laptop Tray (NBT-B1)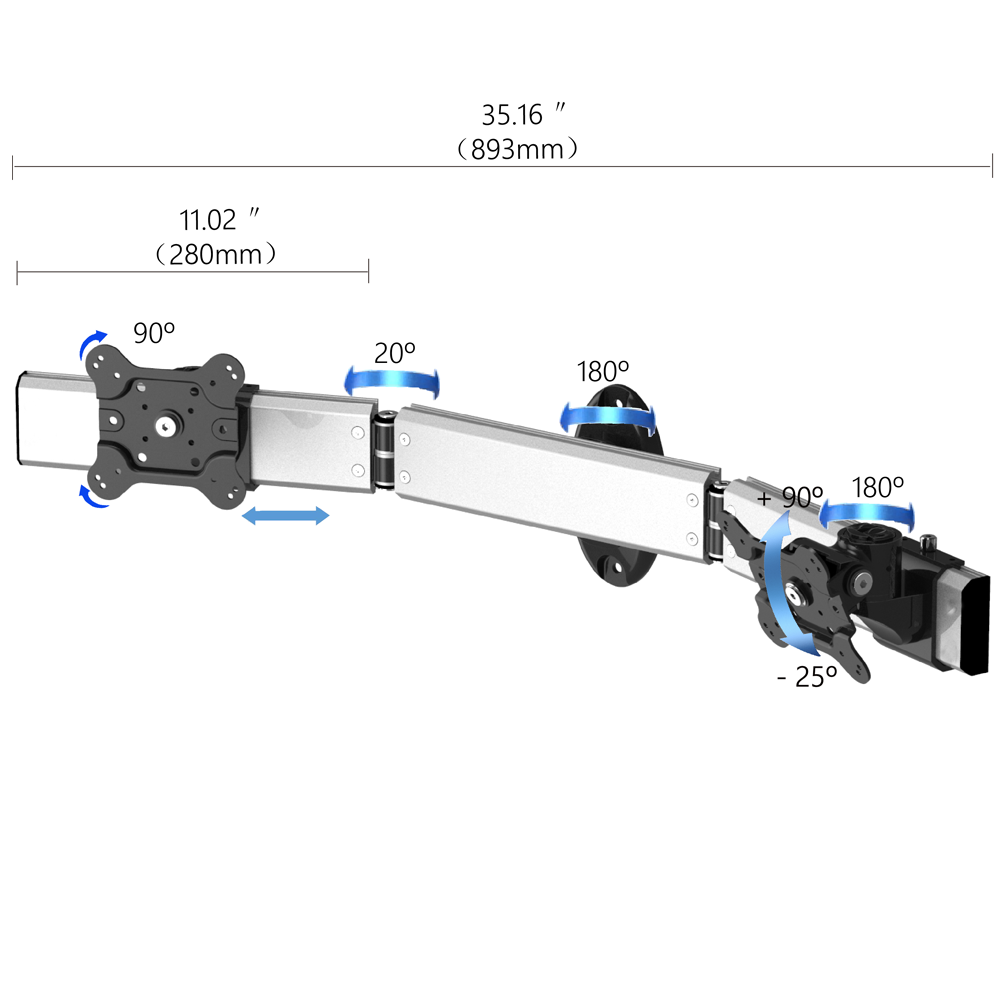 Weight Capacity

Supports up to 17.6 lb (8 kg); Optional more substantial weight capacity of 33.1 lb (15 kg) available

VESA Mounting Hole Pattern 75 x 75 and 100 x 100; can support 200 x 200 or 200 x 100 via additional adaptor plate (VSA-B2) option
Rotation

90° Landscape / Portrait

Swivel

180°

Height Adjustment Range 9.4" (238 mm) dynamically with Front-end Adjuster (FVL-S1) option
Minimum Profile From Wall

7.67" (195 mm)

Maximum Extension

7.67" (195 mm)

Wall Plate Dimensions

Wide: 6.25" X High: 4.25" X Deep: 19.5" (159 X 108 X 495 mm)

Mounts on Studs

Single-stud

Type of Display PC monitor & compatible Apple display with option part # ADA-S1
Color

Metallic Silver & Glossy Black